What are you reading this week? Here are just a few recommendations :) Happy reading!
Meg Benjamin
Don't Forget Me
Releases 12/6
Once they said goodbye forever. Now they want to walk it back.
Konigsburg, Texas, Book 6
Eighteen months ago, Kit Maldonado was so over Nando Avrogado, she left Konigsburg without a backward glance. With the family restaurant in San Antonio sold out from under her, though, she's back to manage The Rose, an exclusive resort eatery outside town.
Dealing with a stingy boss, an amorous head chef, an understaffed dining room and planning her aunt's wedding should have kept her hands full. But she realizes she might not be as over Nando as she thought.
As the town's new assistant chief of police, Nando's got enough trouble without sexy Kit fanning embers he thought had long ago turned to ashes. Every time he turns around, she's there—and it doesn't help that everyone in town wants to see them back together.
One incendiary kiss, and there's no denying the force of their attraction. But there's a mysterious and oddly familiar burglar who's been lurking around Konigsburg, someone who isn't above a little mayhem—maybe even violence—to cover his tracks.
Product Warnings
Contains hot makeup sex, wedding madness, a hot chef, vengeful burglars, and unlawful abuse of a wedding cake.
Lorelei James
Cowboy Casanova
Releases 12/6
His rough touch makes her lose control...
Rough Riders, Book 12
In Sundance, Wyoming, you can't throw a boot without hitting a McKay cowboy, so Ben McKay is used to fading into the background. Except on weekends, when he's Bennett, imposing Dom at The Rawhide Club, surrounded by a bevy of female subs eager for the attention of his long…whip.
As for the curvy brunette eying him from across the room? He'll eat his Stetson if she's the experienced Domme she claims to be. Bennett offers her a deal—he'll let her call the shots for one night. But the next night he gets to prove to her how freeing it'll be when he takes the reins.
Ainsley Hamilton is amazed by how well Bennett read her every secret yearning during that one explosive weekend—and she's stunned when they come face to face in their everyday lives as rancher and new bank president. Now Ben's urging her to explore her submissive side outside the club, and there's something in his commanding gaze that makes it too easy to let him take control—of her desires and her pleasure.
Can Ben help Ainsley overcome her fear that a relationship built on dark sexual appetites won't survive the light of day?
Product Warnings
This book contains a lot of kinky sex. No, seriously, there's A LOT of kinky cowboy sex in this Rough Riders installment. You've been warned.
PG Forte, Stacey Gail, JK Coi, Jenny Schwartz
A Clockwork Christmas
Release 12/5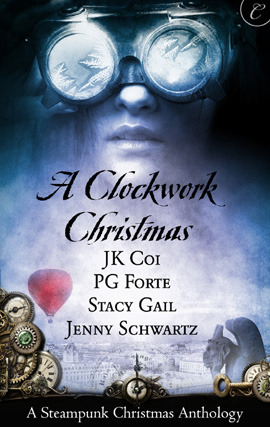 We Wish You a Steampunk Christmas
Changed forever after tragedy, a woman must draw strength from her husband's love. A man learns that love isn't always what you expect. A thief steals the heart of a vengeful professor. And an American inventor finds love Down Under. Enjoy Victorian Christmas with a clockwork twist in these four steampunk novellas.

Anthology includes:

Crime Wave in a Corset by Stacy Gail
This Winter Heart by PG Forte
Wanted: One Scoundrel by Jenny Schwartz
Far From Broken by JK Coi
Stories also available for purchase separately.
117,000 words
* Review posted 12/5
Cassandra Clare
Clockwork Prince
Release 12/6
In the magical underworld of Victorian London, Tessa Gray has at last found safety with the Shadowhunters. But that safety proves fleeting when rogue forces in the Clave plot to see her protector, Charlotte, replaced as head of the Institute. If Charlotte loses her position, Tessa will be out on the street and easy prey for the mysterious Magister, who wants to use Tessa's powers for his own dark ends. With the help of the handsome, self-destructive Will and the fiercely devoted Jem, Tessa discovers that the Magister's war on the Shadowhunters is deeply personal. He blames them for a long-ago tragedy that shattered his life. To unravel the secrets of the past, the trio journeys from mist-shrouded Yorkshire to a manor house that holds untold horrors, from the slums of London to an enchanted ballroom where Tessa discovers that the truth of her parentage is more sinister than she had imagined. When they encounter a clockwork demon bearing a warning for Will, they realize that the Magister himself knows their every move and that one of their own has betrayed them.
Tessa finds her heart drawn more and more to Jem, though her longing for Will, despite his dark moods, continues to unsettle her. But something is changing in Will; the wall he has built around himself is crumbling. Could finding the Magister free Will from his secrets and give Tessa the answers about who she is and what she was born to do?
As their dangerous search for the Magister and the truth leads the friends into peril, Tessa learns that when love and lies are mixed, they can corrupt even the purest heart.
Lara Adrian
Taste of Midnight
Release 12/6
A shimmering holiday gala lights up an ancient castle in the Scottish Highlands, but beautiful widowed Breedmate Danika MacConn feels alone in the crowd. Even among the friends and festivity of the Darkhaven celebration, she can't forget her lost love, a fallen warrior of the Order. Her brief return to her mate's homeland has become treacherous after rejecting the advances of a dangerous Edinburgh crime boss with a taste for blood sport. As Danika seeks to expose the vampire and his dark trade, she discovers an unexpected ally in his forbidding, enigmatic henchman, Brannoc, a man who exudes heat, danger, and dark menace—and seems somehow achingly familiar. Bran has his own reasons for wanting to keep Dani out of his employer's business . . . and his own secrets he means to keep buried. The last thing he needs is to get tangled up with a woman who tempts the wildest part of his Breed nature—especially when that woman is Danika MacConn, the one woman capable of bringing him to his knees.

Lora Leigh
Lawe's Justice
Release 12/6
Mating heat gives him the Heebie Jeebies. It makes his stomach clench. It makes his teeth grind. Not because he wants to avoid it.

Sure as hell not because he's searching for it and can't find it. No, it's the woman he's sensed is his mate, the woman that makes him insane every time they cross paths. The one woman he knows he can never, ever tame. The mercenary sister of Jonas' mate, Diane Broen. And he doesn't mean mercenary in the monetary sense. Oh hell no, he couldn't be that damned lucky. Diane is the commander of a small group of rough and ready male soldiers. A woman living on the edge, and threatening to pull him over with her
Carrie Ann Ryan
An Alpha's Path
Release 12/5
Melanie is a twenty-five year old chemist who has spent all of her adult life slaving at school. With her PhD in hand, she's to start her dream job, but before she does, her friend persuades her to relax and try to live again. A blind date set up through her friends seems like the perfect solution. Melanie can take one night away from the lab and let her inner vixen out on...more
Melanie is a twenty-five year old chemist who has spent all of her adult life slaving at school. With her PhD in hand, she's to start her dream job, but before she does, her friend persuades her to relax and try to live again. A blind date set up through her friends seems like the perfect solution. Melanie can take one night away from the lab and let her inner vixen out on a fixed blind date - a chance to get crazy with a perfect stranger. The gorgeous hunk she's to meet exceeds her wildest dreams – but he is more than what he appears and Melanie's analytical mind goes into overdrive.

Kade, a slightly older werewolf (at over one hundred years), needs a night way from the Pack. Too many responsibilities and one near miss with a potential mate made Kade hide in his work, the only peace he can find. His brother convinces him to meet the sexy woman for a one night of fun. What could it hurt? But when he finds this woman could be his mate, can he convince her to leave her orderly, sane world and be with him and his wolf-half, for life?
* See my review on An Alpha's Path on 11/29
Cassandra Carr
Caught
Release 12/5
When Callie returns to her hometown for the holidays she comes face to face with her old lover and Dominant, Jack. She left him three years ago believing he could never be the happily-ever-after man she needed. Yet Jack still wants her and she finds herself wanting to submit to him again.
As Jack and Callie explore their Dominant/submissive relationship, Callie gets drawn deep into Jack's world all over again. For his part, Jack can't seem to forget how she nearly ruined him when she took off without even saying good-bye all those years ago, but he's afraid his baser needs will destroy Callie.
If Callie give Jack another chance to prove he can be what she needs, can Jack overcome his own fears and claim Callie forever?
Publisher's Note: This book contains explicit sexual situations, graphic language, and material that some readers may find objectionable: BDSM theme and elements (including/not limited to: bondage, D/s, spanking, etc).
* Review coming up on 12/12
Cari Quinn
Unwrapped
Release 12/5



ISBN:

978-1-61118-683-3

Author:

Cassandra Carr

Cover Artist:

Tuesday Dube

Price:

$4.99

Caitlyn Sachs has a great life. A family she loves, check. An incredible design job working with her best friends, Tristan and Matt, check. An amazing home she shares with the guys, double check. But her upcoming twenty-fifth birthday and the desire to shed the burden of her virginity have spurred her to consider something shocking. All she wants is one uncomplicated night with one of her best friends, no strings attached. But how can she choose?
Except there's another problem. Tristan and Matt are already involved sexually with each other, much to Cait's shock. And both men have long harbored feelings for Cait that go way beyond friendship. When they whisk her away for her birthday to a cabin in the mountains, she discovers the extent of their lust—and her own. The gift they give her is one she'll never forget.
But when the weekend's over, will she retreat to the safety of the status quo, if they'll even let her, or will she finally embrace what she's secretly craved for so long? Publisher's Note: This book contains explicit sexual situations, graphic language, and material that some readers may find objectionable: anal play/intercourse, male/male sexual practices, menage (m/f/m, m/m/f).