Do you like hot men ?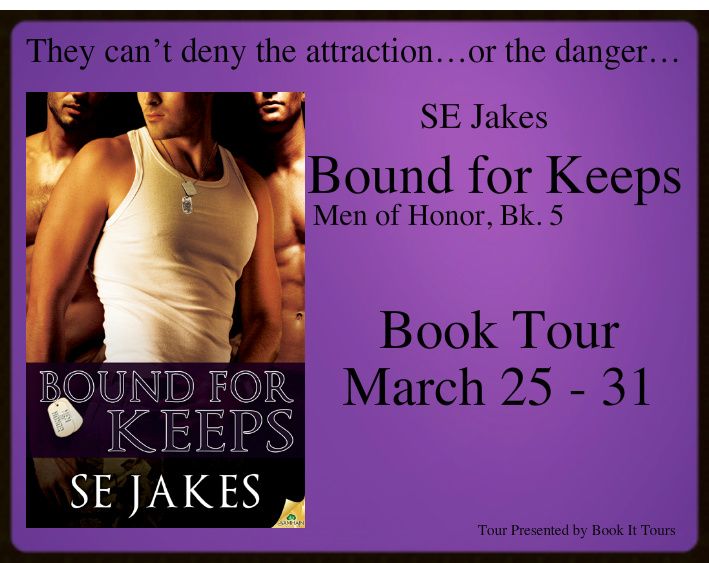 SE Jakes has some hot men for you along with a contest to celebrate her newest release - Bound for Keeps.
BOUND FOR KEEPS (MOH #5)
Publication Dates: February 19, 2013 (ebook) / February 2014 (trade paperback)
They can't deny the attraction…or the danger…
Since losing their beloved third to cancer, Keith Masters and Johnny Lou Reed haven't thought about filling the void in their lives with anyone else. Until a stormy Christmas Eve, when a half-frozen, newly discharged Army Ranger shows up on their doorstep—with no memory of who he is or how he got there.
The former Marine in Keith is suspicious that he can't turn up any information about Shane anywhere, not even an address. Direct questioning will have to wait until they've gotten the boy well.
Shane knows it's only a matter of time before Keith and Reed figure out his past. And when they learn the depth and the darkness of the secrets he holds, he could get them all killed.
In the heat of the dark winter nights, the three men discover a passion that heals the gaping wounds in their hearts. And Shane wonders, despite the danger hot on his heels, how he will ever bear to leave…
Read an excerpt here
BOUND BY Honor (MOH #1)
BOUND BY HONOR: Men of Honor Book 1 (Published March 2011)
A promise forces two men to bare themselves…completely.

One year ago on a mission gone wrong, Tanner James failed to save the life of Jesse, his Army Ranger teammate. Before dying in that South American jungle, Jesse extracted a promise that won't let Tanner rest until it's fulfilled—no matter what it costs him.

Damon Price loved Jesse, but problems in their relationship had come to a head right before Jesse left on his final mission. Now a reluctant Dom and a man still in mourning, he's not happy when Tanner appears at his BDSM club. And even less happy with Jesse's last request—that Tanner sub for him for one night.

After a rough start, Damon realizes that the tough soldier, despite his protests, aches for someone to take control. And Tanner senses a hesitance, an insecurity in Damon that makes him wonder if he's simply a placeholder for Jesse, or if their tentative connection could grow into something more.

For Jesse's sake, they agree to try one weekend together. Then duty calls, and a series of attacks that have been happening near the club hits too close to home, making both men wonder if giving their hearts is a maneuver fraught with too much risk…
BOUND BY LAW (MOH #2)

The one man he can't forget is the one whose memories could destroy them all.

After the one man he trusted disappeared, it took Law Connor ten years to take a chance on another relationship. Trouble is, right about the time he's finally ready to let go of the past, the past stages a hostile takeover.

Back when they were teens, Styx was the boy with no memory. He and Law had each other's backs until he was forced to leave to keep Law safe. Now a CIA agent, he's finally discovered who he is, and why he's a hunted man.

Detective Paulo McMannus has almost succeeded in helping Law forget his lost love when Styx comes plowing back into their lives. No way is Paulo giving up his lover without a fight.

Suddenly Law finds himself on the run with Styx, the man who can still bring him to his knees…and with Paulo, the man who brought him back to life. The worst part? He can't choose between them. And it's getting harder to remember why he should.
TIES THAT BIND (MOH #3)
TIES THAT BIND: Men of Honor Book 3 (Novella) (published November 2011)
Can two men let go of the past in order to find their future together?

When helo pilot Glen Rhodes flies Navy SEALs into the most dangerous places on earth, he has nerves of steel. Since his trusted Dom's death three years ago, though, the thought of submitting makes him panic.

Determined to move on and long past ready to release the adrenaline rush from his job, Glen returns to home ground—and to the bar he hasn't had the heart to enter for three long years. There, he meets a man who seems to fit naturally into the void.

Derek Mann has suffered his own losses, and he isn't looking for permanent. Easy conquests don't interest him, either. One look at Glen's proud military bearing and sad eyes tells him that he has a challenge on his hands. And that winning Glen's trust will unleash something wild and beautiful.

The plan is to tread lightly. But from the first touch of skin on skin, there's no holding back…except when it comes to their deepest emotions. A Christmas Eve crisis pushes them both to their limits, leaving them no choice but to let go of the past…or let it pull them apart.
BOUND BY Danger (MOH #4)
BOUND BY DANGER: Men of Honor Book 4 (Published June 2012)
The danger that drew them together could send them over the edge…

Playing the role of enforcer in the Killers motorcycle club, all CIA operative Clint "Tomcat" Sommers has to do is make sure he has a body to show for his work. Thanks to his ability to move stealthily and easily between the two worlds, the CIA is damned close to making one of its biggest MC gang busts.

Two years undercover have taken their toll, but there's no backing out now. Tomcat's only reprieve from the pressure is fantasizing about the newest member of the gang.

Worry for his cousin's involvement in the Killers drove Navy SEAL Jace Reynolds to agree to infiltrate the gang to do some short-term surveillance for the FBI. The deal: do the job, and his cousin gets witness protection. When he meets Tomcat, though, his fantasies kick into overdrive. Meeting men while on active duty is tough. Acting on his desires within the club could have deadly consequences.

Despite the risks, Tomcat's and Jace's off hours flare hotter than a full-throttle burnout. But the smoke is bound to attract unwanted attention. And when Tomcat suddenly disappears, the secrets both warriors keep could send one of them to the grave.
SE Jakes writes m/m romance. She believes in happy endings and fighting for what you want.
You can contact her the following ways:
You can email her at
authorsejakes@gmail.com
You can post to her Facebook page:
Facebook.com/SEJakes
You can Twitter her:
Twitter.com/authorsejakes
You can post on her Goodreads Group:
Ask SE Jakes
You can follow her Tumblr page:
sejakes.tumblr.com
Truth be told, the best way to contact her is by email or in
blog comments.
She spends most of her time writing but she loves to hear from readers!
a Rafflecopter giveaway