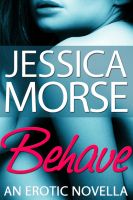 Blurb~
Rachel is struggling to keep her urban party-girl ways in the past and embrace the adult life she's built for herself in the suburbs. But no matter how much she wants to change, the intoxicating temptations of sexual and emotional freedom maintain a strong hold over her.
When she meets gorgeous, sexy and successful Wes, he puts every ounce of her willpower to the test. Down one path lies a safe, thoughtful existence. Down the other? Erotic delights she's never known. When even just watching drives her wild, Rachel must reconcile the different parts of her life and decide choose which way to go.
* Contemporary Erotica *
Novella: 22,100 words
Warning: Includes explicit scenes of shower sex, casual sex, oral sex, voyeurism and more.
BUY NOW :
Review~
I want to start out and say that Behave is not a romance. We don't get a definite hero to root for in this tale. This is a voyeur's playland. Our heroine, Rachel, is crass, blunt, and utterly obsessed with sex. She doesn't come off as real likeable to start out, but I think that is more or less me getting used to her humor. Or maybe the author wants us to enjoy her sexy torment?
Since I told you this is erotica, I will tell you...it gets the job done. This book grabs hold of your libido and shakes it until your teeth rattle. I loved watching Rachel squirm under our main man Wes's torture. The woman obviously has beer flavored nipples, or is really really hot, because she has men tripping over their tongues to get at her. We get three different partners in 20,000 words! Like usually happens with really beautiful people, it is the one Rachel can't have that she can't get out of her head. Between Wes's late night break ins, his naughty phone conversations, and his orgasmic public caresses, this man is a ball of sex. And Rachel is a cat batting at the strings that ball of sex is dangling just out of her reach.
There are no promises of anything but a good time between these two, and our main conflict comes not from Wes, but from Rachel herself and her struggle to just enjoy herself as a sexual being. If you are looking to live the life of a wild woman who has the one night stand down to an art form, and enjoy a decadent man in a decadent environment, with no talk of children, responsibility, or future, this is the way to go. This erotic tale tells a story, and damn...I was panting for more. 4 stars.