Are you a Sinner gr
oupie?
I am and I can't wait to scream it to everyone how much I loved Double Time!
Olivia Cunning delivers the perfect blend of steamy sex, heartwarming romance, and a wicked sense of humor in this menage story featuring the hottest guy in the Sinners band.
Trey Mills, the notoriously sexy Sinners rhythm guitarist, gives up his bisexual lifestyle and is swept into a hot, heady romance with Reagan Elliot, a female rock star sensation. But when Trey encounters Reagan's sexy bisexual roommate, Ethan Conner, he can no longer deny who he is or what he wants. Reagan heartily agrees to a solution that opens up a hot new world of sexual experience—and love—with the two men she wants the most.
READ CHAPTER ONE
Sinner Fan Site
So I guess I will be writing this review bra-less and panty-less 'cause they have been thrown on the stage! I am a TOTAL and COMPLETE SINNERS FAN GIRL!
If you have not read Olivia Cunning's Sinners (Back Stage Pass, Rock Hard, Double Time) series you are missing out on some of the Hottest Rock Stars around! I feel like I have been waiting forever for this new book and I am so happy I could streak naked that I finally got my hands on it. (I know it's not out 'til Nov. – so THANK YOU NetGalley!)
Okay if the blurb isn't enough to get you motivated I'm not sure what is. Poor, poor Trey. This gorgeous man has been in love with his best friend for years, but he knew it could never be. Especially after Brian is married and expecting his first child. Trey is now all alone and has sworn off men. Not sure what to do with himself, other than sex, sex, and more sex as that always been his way of dealing with things. When his brother, Dare from Exodus End, invites him to help pick their new rhythm guitarist he jumps at the distraction. Only he gets more than he bargained for in this distraction - he gets a pint-sized, sex in combat boots, with fingers of the devil - Reagan Elliot.
Reagan now Exodus End's new rhythm guitarists and Trey Mills's new "girlfriend" is now sent on tour with Sinner's to see if she can "fit in." And Oh Boy' she fits in alright and Trey loves to see where he can fit, only problem is Trey has a thing for both men and women. Can Reagan fill his need for both or will he wind up hurting her the way her ex did? Trey understands why her ex slipped 'cause he is having the same problem "men" and the one he wants now just happens to want him as well - Ethan Conner.. Reagan's ex.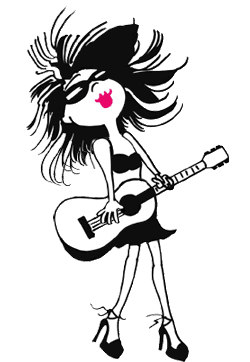 This love triangle comes to a point when secrets are revealed and a proposal is offered - Sleep with Ethan for your needs and I will be yours as well. Only Trey wants it all and so does Ethan. They both love Reagan but can she accept their love for each other as well? OMG this is such a triangle of angst, love, sex, a serious emotional roller coaster and I love every twist, turn, peak, and fall of it.
Olivia Cunning had my fingers strumming those cords Double Time just trying to keep up with all the lust, romance, and humor! Amazing addition to what already is a terrific series! GET IT NOW!! You won't be sorry.
My only issue with this book was that I thought Jace's story was
next and that Trey's was book five. Either way
,
I'm happy I got my story but Jace is my favorite (next to Dare) and I want them NOW.