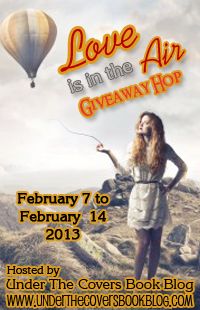 Today is the first day of the Under the Cover Blog Hop and I am happy to once again be apart of one of their terrific hops. From Feb. 7-14 we will be participating in the "LOVE IS IN THE AIR" Blog Hop with over 70 other blogs!
Okay not I know so of you out there are wondering why do I have a video of some old guy on my blog instead of some serious man candy right? Okay I have a confession to make I am way to young to know this guy but I know the song and my grandma had/has the biggest crush on him so I used to listen to him all the time - Tom Jones.
Now the next question I'm sure your asking is why Tom Jones? Well he sings "Love is in the air" and I thought how fitting to play the song the hop was named after (which the ladies at UTC are all too young to know as well). It's a cute song and one everyone should hear so enjoy!
Okay now onto the really good stuff the GIVEAWAY!
For this hop I will be giving away two eBook copies of Carrie Ann Ryan's newest release Finding Abigail. All you have to do to enter is tell me what "new to you" author have you read so far this year 2013 that you would recommend, or what book?
*international giveaway
I met Ms. Ryan on Twitter about a year and a half ago and we quickly became great friends and I a huge fan of her work. The other day I happened to chat with her and found out I was her first, yes I said it I got to be her first! I was the first reviewer and blogger to host and review her! I was so thrilled to hear this because Carrie Ann Ryan has taken this year over, she will have put out over 15 books by the end of this year and has been nominated for several awards. Let me tell you people if you haven't already had the pleasure of reading this lady she is a must! Shifters, angels, demons, spirits, she does them all fabulous. She has just released a new yesterday and I couldn't help but think it was perfect for this hope so close to Valentine's Day - it's about a cupid!
Check it out and be sure to look up Carrie Ann Ryan!
Tyler Cooper is the town sheriff and, in the past, had been the only person keeping Holiday steady. Though the community is now finding out that it's town is magical, Tyler has always known it—it's in his blood. He has always known his fate of becoming a cupid, striking love into the hearts others, but an enemy from his past is set on keeping him from finding his own destiny—and love.
Abigail Clarke is leaving Holiday for good. She has to. After years of trying to fit in and make Tyler notice her, she's giving up. She's watched her friends fall in love and it's heartbreaking. Acknowledging that the one man she's always loved doesn't want her, it's time to move on and find her own future.
Right when the stars align and Tyler opens his eyes, his enemy is back and has his sights on Abigail. Abigail is in danger and Tyler may be the only one to stand up to him and save her.
Warning: Contains one sexy sheriff who turns into cupid, complete with bow and arrow, the sweetest teacher you'll ever meet who needs to find her bad girl side, and a love of candy hearts that's sure to bring them together.
How many skeins of yarn does a person need to collect before it became hoarding and not just there for a rainy day?
Abigail Clarke shook her head at her own question and started to throw various colors and textures of yarn into a canvas bag. Instead of trekking to her new place with them in tow, she'd just donate them to the Holiday Women's Society since they knitted more than she did anyway. Dear Lord, she was twenty-two and a closet knitter. Even though she'd been living like an adult since she was fourteen, she was still a baby compared to most of her friends.
And, she was still a closet knitter.
Okay, not so much in the closet since the whole town thought she only knitted, baked, and cleaned her little house. God forbid they imagine her with a life of her own where she got to at least have some semblance of fun.
So, what if they were partially correct?



About this author

Carrie Ann Ryan is a bestselling paranormal and contemporary romance author. After spending too much time behind a lab bench, she decided to dive into the romance world and find her werewolf mate - even if it's just in her books. Happy endings are always near - even if you have to get over the challenges of falling in love first.
Carrie Ann's Redwood Pack series is a bestselling series that has made the shifter world even more real to her and has allowed the Dante's Circle and Holiday, Montana series to be born. She's also an avid reader and lover of romance and fiction novels. She loves meeting new authors and new worlds. Any recommendations you have are appreciated. Carrie Ann lives in New England with her husband and two kittens.


WEBSITE
http://www.carrieannryan.com/

Happy Hopping!!
Love is in the Air Blog Hop 2013