A few months ago I had the chance to read Heather Long's
Marshal of Hel Dorado
when I first started it I wasn't sure if it was for me but I quickly realized I was wrong. I couldn't stop reading, it had adventure, paranormal- shifter, hunky cowboys, and a heart warming love story. So when I was asked if I wanted to read book 2 in the Fevered Heart series I jumped at and said YES!!
Hell if I hadn't read the first book already I'd have grabbed this one just cause of the cover alone! I mean come on look at those abs!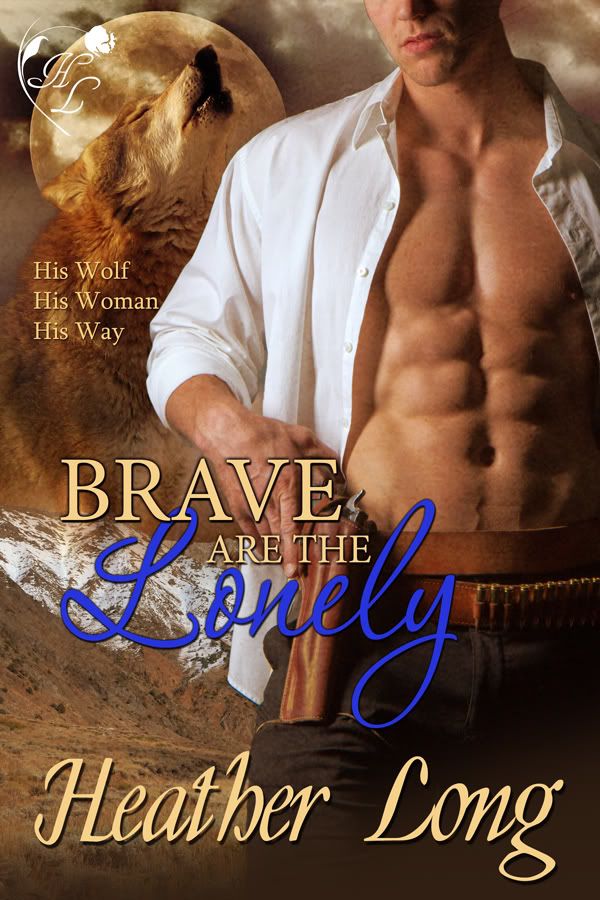 Brave are the Lonely
Blurb~
When the spirit fever struck a town, a village or an outpost, it left few if any survivors. The white man blamed the Indian saying they used their mojo on them. The Indians blamed the white man for angering the spirits. The survivors knew it didn't matter. The Fevered were forever changed.
When death seemed preferable…
Mourning his mate drove fevered wolf shifter Cody out of Texas, but a brother's need drags him back from the brink.
…
and good deeds never go unpunished…
Gypsy princess Mariska only wants to protect her people and her freedom, but a dangerous choice puts her on a collision course with an angry wolf.
…the best thing that could happen to him…
When Cody touches Mariska, his wolf cannot escape the hunger that fills him. For Mariska, Cody's touch brings her a pleasure she never imagined, but is it enough to heal his fractured soul?
…
was the last thing he expected.
As danger stalks all three of them, they must confront who they are or risk losing Cody forever.
His wolf. His woman. His way
Want to read more?
CLICK HERE
for the first 2 chapters
SPPTTT:
I'm always looking for a great deal and I'm sure all you book addicts are as well. So did you know that book 1-
Marshal of Hel Dorado is only $0.99 at AMAZON
! Yep that's my special deal alert for you :)
* I'm supposed to have my review posted here but I am currently in Costa Rica and having computer issues. So if this posts before I can get to my internet hook up please forgive me, I will make it up to you. xoxox