Cead Mile Failte
One of my favorite places in Ireland - Giants Causeway
It's Blog Hop time!! Time to celebrate St. Patrick's Day and wear green!
Over 120 authors are going to be telling anything they can about being Irish, celebrating the day, wearing green, drinking green beer... pretty much anything!
Each author will be giving away a prize. Like a swag pack, gift cards, ebooks, print books, and so much more.
PLUS We have TWO Grand Prizes for TWO different winners! *gasp*
Grand Prize 1: Winner's Choice of a Kindle Fire or Nook Tablet
Grand Prize 2: Winner's Choice of a $90 Amazon or Barnes&Noble Gift Card
Isn't that exciting? LOL. So what do you have to do? Well, go to these websites and comment, stop by as many as you want. The grand prize winners will be chosen at random from the commenters - meaning you can comment on EACH blog - meaning 120 entries to the grand prize!!
Sounds great right? Come on over and wear your green and win some prizes!!!
Malin Head - in Ireland
**********************************************************
Irish Soda Bread is one of my favorite things to eat when I'm there so I figured I'd give you a recipe -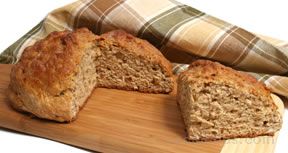 Ingredients
2 cups

flour: wholewheat, white or, preferably, a mixture.

1/4 cup

rolled oats (oatmeal), optional

1/2 teaspoon

salt

1/2 teaspoon

baking soda

1 teaspoon

baking powder

3/4 cup

buttermilk or soured milk (milk plus 2 teaspoons vinegar)

2 tablespoons

oil or melted butter

2 tablespoons

honey or sugar

1

egg
Directions
Preheat the oven to 350°F. Line the bottom of a pie dish or baking sheet with foil or parchment large enough to accommodate an 8-inch circle. Lightly oil the lining material.
In one bowl, mix together the flour, oats (if using), salt, baking soda, and baking powder. In a second bowl, beat together the milk, oil, egg, and honey.
Stir the liquid and dry ingredients together to make a sticky dough. If it's too wet to hold a mounded shape, work in a little more flour. Shape into a mound about 6 inches in diameter on the prepared baking surface. With a sharp knife, slice a large X on the top of the loaf.
Bake about 45 minutes, or until done. To test for doneness, tap the bottom: It should sound rather hollow. Let the bread cool a few minutes, or longer, before slicing, although the bread is at its best when eaten warm, topped with butter, honey, or both.
**********************************************************
Now for my giveaway-
The Irish Sex Fairy believes sex will cure all problems…

So says Great-aunt Maeve, owner of the Irish Sex Fairy, a sex shop in Kilkenny, California. When stressed-out Keara visits Maeve after a hostage situation where she was held at gunpoint, she's ready to try anything to get over the flashbacks and nightmares and intense guilt over her role in the incident.

Enter sexy Shane Dunstan, Kilkenny's deputy police chief and old flame of Keara's. With black hair and blue eyes and a body a girl could easily lose herself in for a lifetime, he's perfect for putting Maeve's remedy to the test. He's more than happy to help. A lot.

But while all the sizzling sex does seem to make Keara feel better, it creates a whole new set of problems. Keara needs to overcome her fears and get back to her career, but that means leaving Shane and Maeve. And when the past comes back to haunt her in a terrifying encounter, she's about to find out just how effective Maeve's cure-all is.
AND a $5 Amazon gift card to one lucky commenter that tells me how they celebrate St. Patrick's Day.
Don't forget to leave your email address so that we may contact you when you win :) There is no need to follow my blog,
Twitter
, or
Facebook
but I would love it if you did - xoxox. Have a Happy St. Patrick's Day and don't forget to wear your green - unless you like getting pinched :D