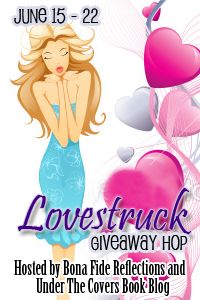 Love-struck: (adjective) having a passionate or overwhelming feeling of love; smitten
So I guess I'm supposed to talk to you about a book, series, or hero/heroine that I have read which has left me smitten?

Hmmm this year I have actually been very lucky and have found many new authors and series that I have fallen for.
One book I loved was:
Ann Mayburn's
A Breaker's Concubine
Prince Devnar of Jensia is goaded into raiding the wrong space ship, springing a trap that captures him for use as a Royal pleasure slave, a Concubine, on Kyrimia. He vows to do everything he can to escape and keep from forming a psychic bond with his captors that would render him absolutely and totally in love. This proves difficult to do when the female Breaker assigned to turn him into a Concubine, Melania, is the epitome of his perfect woman.

Melania has been raised and trained to help reluctant and abused Novices to break through their personal blocks and attain the ultimate prize of becoming a Concubine. When she is given Devnar to train, she finds herself in danger of doing the forbidden and falling in love with her Novice. This angry, scarred, and utterly seductive male tests her self-control like no other.

Devnar and Melania find themselves at the heart of a galaxy wide political battle that will test a love that they must not acknowledge, and cannot live without, to its very limits.
* I'm not huge on Sci-fi but this is a fabulous book! This was my first Ann Mayburn book and I have since read a few more. This women has a gift for creating great worlds and characters you crave.
I'm a huge series fan and one series that I looked forward to all year long was:
Shayla Black - Wicked Lovers series
Mine to Hold - Book 6
A friend's duty.

Tyler Murphy was an LAPD detective, single and happy—until a near-fatal tragedy crippled his friend, fellow detective Eric Catalano. While he supported Eric, he also became a shoulder for Eric's wife, Delaney, to cry on. But with one naughty suggestion from Eric, a drunken night with Delaney spilled into erotic abandon. Before it was over Tyler saw his best friend's wife as a woman and yearned for more. When Eric struggled to deal with the aftermath, Delaney begged Tyler to leave. Crushed, he fled to Louisiana, hoping to escape his longing for the one woman he could never have again…and unaware of what he'd left behind.

A lover's desire.

After two years of living with regret, Tyler finds Delaney on his doorstep, her husband having abandoned her long ago. She's protecting a shocking secret and desperately needs refuge from a killer determined to see her dead. As they fight to stay alive and catch the stalker, they struggle to resolve the guilt of their past pleasures. But they can't deny that what was once a spark is now a flame burning out of control. To possess Delaney — body and soul — Tyler must heal her pain and thwart the evil that's a mere breath behind her…
*Where have you been if you haven't read the amazing Shayla Black? This is a must read author!! Shayla Black has made me fall in love with every and I mean EVERY character she has written. She keeps us intrigued with her story lines and panting from her sex scenes.
And one of my favorite all time characters comes from:
Eden Bradley's
The Dark Garden
A deliciously potent tale of one woman's quest for self-discovery.

Rowan Cassidy likes to be in charge—especially in her personal life. As a mistress at Club Privé, the most exclusive bondage/S & M club on the West Coast, Rowan can live out her dominant fantasies safely, and with complete control—until the night Christian Thorne walks in. Self-confident and sophisticated, he's a natural dominant if Rowan's ever seen one. Yet she can't stop thinking about him and imagining his touch.

Christian has returned home, hoping to break free from his dissatisfaction and malaise—and discovers the cure in Rowan. He's dying to get his skilled hands on her and watch her surrender, to unlock the mystery of her that captivates him. Determined to be her master, he makes Rowan a daring proposition: give herself over to him for thirty days.

Rowan finds Christian's offer terrifying—and impossible to resist. But abandoning herself to Christian's power might be more than she can handle…. Or it might be the realization of her true nature and the dark garden within her. There will be only one way to find out. And once the game has begun, there's no turning back.
* OMG, Christian Thorne has to be one of my all time favorite characters!! I fell in love with him about two years ago and I am constantly comparing him to other dominant characters. If you want a book that will make you toes curl and will command your attention this is it! Christian is a character I wish I could take outta my book and play with :)
So what I will be giving away?
I have a swag pack from each author

(US ONLY for swag-sorry)

and a $10 gift card

(INT- giveaway - book site of your choice).
Do you have a character you wish you could
pull from the pages and play with?
a Rafflecopter giveaway