Quarantine by Lisabet Sarai
M/M science fiction erotic romance from Total-E-Bound
Released July 9, 2012
BUY IT HERE:
Total-e-Bound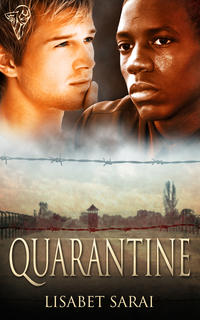 Blurb
When love is forbidden, the whole world's a prison.
Dylan Moore will do anything for freedom. Seven years ago, a gay plague spread to heterosexuals, killing millions and sparking brutal anti-gay riots. The Guardians rounded up men who tested positive for the homogene and imprisoned them in remote quarantine centres like desolate Camp Malheur. Since then, Dylan has hacked the camp's security systems and hoarded spare bits of electronics, seeking some way to escape. He has concluded the human guards are the only weakness in the facility's defences.
Camp guard Rafe Cowell is H-negative. He figures the lust he feels watching prisoner 3218 masturbate on the surveillance cameras must be due to his loneliness and isolation. When he finally meets the young queer, he discovers that Dylan is brilliant, brave, sexy as hell
–
and claims to be in love with Rafe. Despite his qualms, Rafe finds he can't resist the other man's charm. By the time Dylan asks for his help in escaping, Rafe cares too much for Dylan to refuse.
Dylan's plan goes awry and Rafe comes to his rescue. Soon they're both fugitives, fleeing from militant survivalists, murderous androids, homophobic ideologues and a powerful man who wants Dylan as his sexual toy. Hiding in the Plague-ravaged city of Sanfran, Dylan and Rafe learn there's far more than their own safety at stake. Can they help prevent the deaths of millions more people? And can Rafe trust the love of a man who deliberately seduced him in order to escape from quarantine?
X-rated Excerpt

–

New Intimacy
Rafe assumed the position Dylan had described. His cock pointed at the ceiling, bobbing with his breath. Dylan knelt between the splayed thighs and swept his tongue over the dripping bulb. Rafe moaned in response.
Dylan licked his way down the other man
'
s chocolate-coloured shaft, savouring the rigid flesh as if it were indeed candy. Hands on the back of Rafe
'
s thighs, he held his lover steady while he travelled lower. He lapped at the heavy balls, cradling them in his mouth, then moved lower still, teasing and sucking the sensitive spot behind them.
Rafe
'
s scent was stronger here, funkier and even more masculine. Dylan wanted to gorge himself on the man
'
s flesh, but he held back. He needed to go slow, to build the pleasure gradually, inexorably. By the time he pushed into Rafe
'
s hole, he wanted the man to be so wound up he wouldn
'
t feel even a hint of pain.
Rafe
'
s privates were soaked with Dylan
'
s spit and he was moaning non-stop. Still, he tensed when Dylan
'
s tongue flicked across his anus.
"
Relax,
"
Dylan crooned.
"
Don
'
t worry. I won
'
t hurt you.
"
He circled the pink-brown knot, wetting it thoroughly before he wormed his tongue tip a fraction of an inch inside.
"
Oh!
"
Rafe
'
s stomach muscles grew taut and his cock twitched.
"
Oh yeah!
"
Now Dylan
'
s tongue was probing the whorl of muscle like a little cock. Rafe was having a hard time keeping still.
"
I
'
m going to get you all wet and stretched, baby. I
'
m going to make you so hungry for my cock, your ass is going to suck it in on its own.
"
Dylan slipped a finger into Rafe
'
s hole and wriggled it gently. The other man didn
'
t flinch. He added a second and felt Rafe
'
s muscles clench around the intruding digits. The moist flesh clung to Dylan
'
s fingers as though they didn
'
t want him to pull out.
Before long, Dylan was working three fingers in and out, burying them to the joint each time. Dylan watched Rafe
'
s face. The man
'
s eyes were closed. He grimaced at each penetration.
"
Oh, yeah
…
feels so good
…
ah
…
Want more
…
please
…"
Rafe
'
s hole was juicy and loose. Meanwhile Dylan
'
s cock had never been harder. He extracted his fingers from the ring of muscle and positioned his knob against that virgin entrance.

Like what you've read? Want to win some prizes?
To celebrate the release of
Quarantine
, Lisabet is running a blog tour from the 10
th
through the 20
th
of July. She'll have a different excerpt at each stop. You can find the full schedule for the tour in her July newsletter:
http://www.lisabetsarai.com/news.html
Lisabet will also be giving away an ebook to
one commenter at each stop on the tour.
She'll also be choosing one commenter from the entire tour to win the grand prize
–
a $50 All Romance Ebooks gift certificate. All comments at her own blog Beyond Romance (
http://lisabetsarai.blogspot.com
) during the tour will also go into the drawing for the gift certificate.
So enter for your chance to win!!
About Lisabet
More than a decade ago, Lisabet Sarai experienced a serendipitous fusion of her love of writing and her fascination with sex. Since then she has published four single author short story collections and seven erotic novels, including the BDSM classic Raw Silk. Dozens of her shorter works have been released as ebooks and in print anthologies. She has also edited several acclaimed anthologies and is currently responsible for the altruistic erotica series COMING TOGETHER PRESENTS.
Lisabet holds more degrees than anyone needs from prestigious universities who would no doubt be embarrassed by her chosen genre. She loves to travel and currently lives in Southeast Asia with her highly tolerant husband and two cosmopolitan felines. For more information on Lisabet and her writing visit Lisabet Sarai's Fantasy Factory (
http://www.lisabetsarai.com
) or her blog Beyond Romance (
http://lisabetsarai.blogspot.com
).