Do football or baseball butts drive you nuts? Do you love to see sweaty men chasing after each other? Tackling each other? Does the sight of a pair of sexy calves kicking a ball down field heat you up? Do NASCAR drivers rev your engine?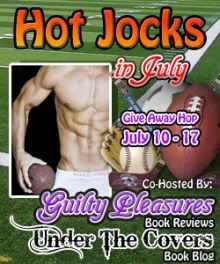 WOW I went looking for HOT JOCK pics on the internet and OMG the pics that popped up! Let's just say I had to surf a few find a decent pics I could share, lol.
Okay now onto books...
Some of my favorite sports books this year have been from:
The Buffalo Intimidators Series (Hockey)
Buckin' Bull Riders Series (Rull Riders)
Play by Play Series (Football, Baseball, Hockey)
One Man Advantage (Hockey)
Thanks to
Guilty Pleasures
and
Under The Covers
for putting together this great hop so we could talk about some of our favorite HOT JOCK romances.
One lucky commenter will win a $10 gift card from Amazon.
Please remember to leave a contact email, contest is open internationally. Winner announced on 7/18.
Good luck and start hopping!!
Do you have a favorite sports themed book or series?