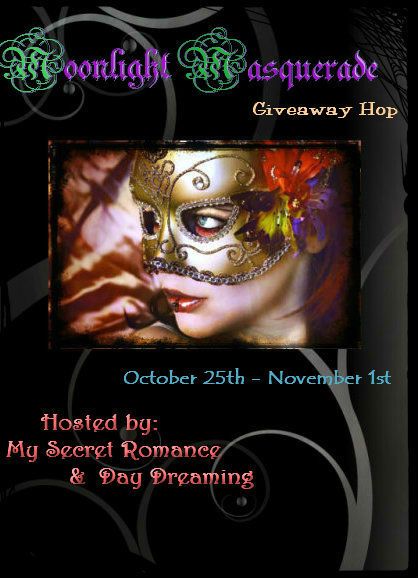 Day three of the Moonlight Masquerade Hop!! How big has your treat bag gotten so far? I know mine is already overflowing with all the great books out there that I want already!
As many of you know I'm a Twitter girl and this year I came across author Louisa Bacio and we hit it off great. I first met up with her at RT12 in Chicago and have since had the pleasure of seeing her at a few other events. Louisa is awesome not only as an author but she is funny and very sweet.
When I started looking for books to giveaway I thought that hers would be a great choice for a few reasons:
1. Vampires
2. Witches
3. Werewolves
4. New Orleans
Yes I count New Orleans I mean that place is just dark, creepy, and full of scary, sexy things around every corner. Louisa books aren't scary but they are sexy mouthwatering treats that beg to be gobbled up.
**********************************************************
Haunted by paranormal abilities that she can't control, and plagued by nightmares about a demon that seeks her soul, Lily Anima travels to New Orleans in search of salvation.
In the French Quarter, Lily dives into the paranormal world and enlists the help of an unlikely couple: a vampire, Lawrence Justice, and a werewolf, Trevor Pack.
As the trio encounters ghosts, voodoo and unspeakable evil, will Trevor and Lawrence be able to help Lily turn her powers into a gift rather than a curse? And when Lily discovers that she needs to lose her virginity in order to embrace her powers and get the demon off her back, will the twosome be able to survive as a threesome?
**********************************************************
Now for a little Halloween fun with Louisa...
1) What do you think of when things go Bump in the night?
I would totally be one of those chicks who hears a squeaking floorboard, and gets up in a see-through nightie to go scoot around the house yelling out, "Hello? Is anyone there?" Yes, totally embarrassment. But what's better? Staying under the cover while the ghost hovers over you? Yeah: done that, too.
Or do you mean Bump --> fuzzies? Cause that's the very best type of bumping in the night.
2) Do you dress up for Halloween? What is the sexiest or scariest costume you've worn?
Sexiest? At some point in college, I know I wore something involving very little material. The actual "costume" part of it was simply a reason to dress skimpy. It works, too. There also was the time that my friends and I all dressed as Jem & the Holograms ('80s cartoon). I dyed my hair green and wore green stretch Chemin di Fer pants. (I'm not really dating myself. They were hand-me-downs from an aunt.)
The scariest? Hmmm. I had an old white prom dress that I tattered and spilled fake blood all over. I think the look was officially a vampire bride.
3) Do you have a special Halloween movie you like to watch?
Hocus Pocus! It's such a slightly dark & funny film with a stellar cast. I love Sarah Jessica Parker as the ditzy, sexy witch. Thanks for the reminder. Must watch it again!
a Rafflecopter giveaway