The Moonlight Masquerade Giveaway Hop STARTS today!!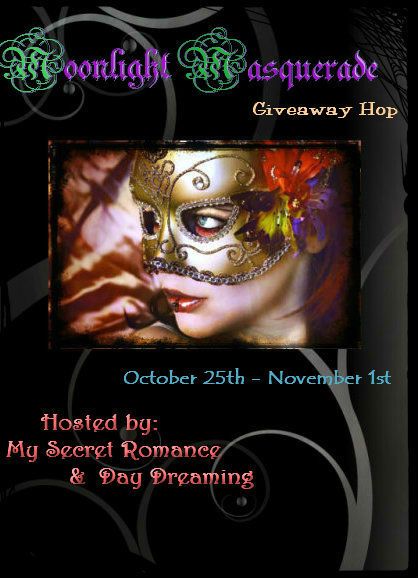 Do you have a secret crush you're afraid to reveal yourself to? Worried they'll be either too sweet or too sour? Does the thought of hiding behind a mask excite you? Would you like to fall under the spell of a brooding dark vampire and let him sink his fangs into? Or how about a sexy shifter built thick and hard that you're just dying to pounce on? Well then, come join us as we celebrate all those things that are wicked on Halloween!
I love Halloween a chance to get dressed up and act as crazy as I want and not have anyone look at my like I'm crazy, HELL YEAH! This year hubs and I are doing the matchy thing well somewhat... he is going to be a knight and I'm a wench. Well at least that's the plan so far as today. He keeps wanting to change his mind and be a Ninja-LMAO, oops sorry let me explain. Hubs is a big guy 6ft 2in and 240lbs, not a small guy. Do you want to see him in that tight spandex outfit? lol I brought it home and the legs come up to his knees almost and the top wouldn't close. You remember that saying... fat guy in a little coat? Yep I was singing it to him, don't get me wrong he is far from fat but seeing him try to get outta it just sent me into a flash back of the movie -lol.
What are you dressing as this year?
Stop by everyday this week and enter to win the awesome Halloween prize pack I have put together. Authors like, RG Alexander, Luoisa Bacio, Bonnie Bliss, Robin L. Rotham, Kate Davies, and Lisa Renee Jones.
Witches, Vampires, Werewolves, Druids, Halloween parties, and what Halloween could be complete with out FrankenDom.
a Rafflecopter giveaway
Remember to trick or treat the rest of the hop this week, you never know what goodies you'll find.
LINKY CODE-