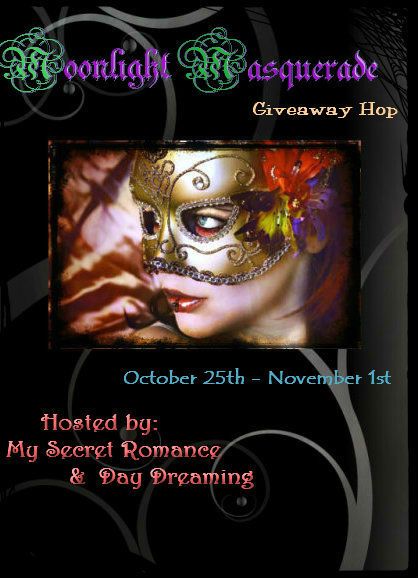 Today is day two of the Moonlight Masquerade and I will be reviewing Wicked Release, book 3 in the Wicked Series by one of my favorite author's, R.G. Alexander. Since I enjoyed this series so much I will be giving this book (Wicked Release) to one lucky hopper!!
Do you like Fated Mates? Witches? Spells? Secrets? Curses? and Magical Sex? Then this is the book for you!
When you've waited centuries for release…will three be the magic number?
Cursed for hundreds of years by a rejected suitor and an ultimate betrayal,

Sarah Blackwood

has had plenty of time to plan vengeance…and escape. When she sensed a magic that called out to her own, she instinctively drew it to her, desperately hoping it would be her way out.

She never expected what happened next.

Con and Lorie have always known their Triad was incomplete. They didn't realize the woman they'd been waiting for had been born over three hundred years too early, or that a twist of magical fate would bring them together at last.

Sarah has sworn vengeance on all the families involved in her imprisonment, including the Abbotts. Will she use her unique abilities to destroy them all, or will the two men she can't seem to resist convince her–with a little help and a lot of kink–that love is the best revenge?

Warning: Explicit Menage Sex. Sex in the grass and sex in a chair. One magical mirror sees sex everywhere. A little spanking, a little kink and the dirtiest magical threesome in the land.
Review ~

Another magical book by

author RG Alexander! After I read book one in the Wicked Series I knew I was a goner. Somehow

,

and I'm not quite sure how

,

Ms. RG Alexander packs her books full of arousing characters, affecting story lines, and leaves us with a constant yearning for more.

This is the third installment of the Wicked Series and once again I was sucked in by

these

characters and story line. In Wicked Release we are given Con, Lorie, and Sarah's story, this is not a sweet lovey

- dovey one. S

arah has been trapped in a "hell" of sorts and Con has finally found a way to "free" her and bring her to where she belongs... to him and Lorie.

Once Sarah has been freed, she is assaulted with feelings she doesn't know what to do with, and the knowledge that she must find a way to break her curse. Con and Lorie work with their family to help Sarah break her curse and aid her in finding her rightful place in today's world with her triad.


The sexy is smoking hot, story is complex and well thought out, fast paced, and once again leaves me wanting more from this crazy

,
magical world.
I sat and talked with RG yesterday about Halloween and she was so sweet to answer a few questions for me:
1. What's the scariest movie you have watched?
RG - Most of them! I scare easily but the Blair Witch Project is the worst. At the end of the movie where the camera man is in the corner of the room and you see the kids hand print *shivers* creeps me out. Little kids in scarey movies just creep me. I'm prefer The Great Pumpkin.
2. What's you favorite Halloween candy?
RG - I am Anti-Candy Corn! Think I may have gotten sick from it at one time. I do love CHOCOLATE, CHOCOLATE, CHOCOLATE and Carmel Apples are good too.
3. What are you doing for Halloween, any plans?
RG - We will be handing out candy (if there is any left *snicker*) Of course dressing up and then we are going to get together with friends and go see a late night showing of young Frankenstein.

Sounds like fun I hope you all enjoy yourselves and remember we'd love to see pics!!
Pssst... get close I need to tell you something... Did you know that RG and two of the other Smutketeers are doing a contest right now? YEP, jump on over to her site for the details GREAT PRIZES!!
Now onto the giveaway portion...
If you could have one magical power what would it be and why?
a Rafflecopter giveaway