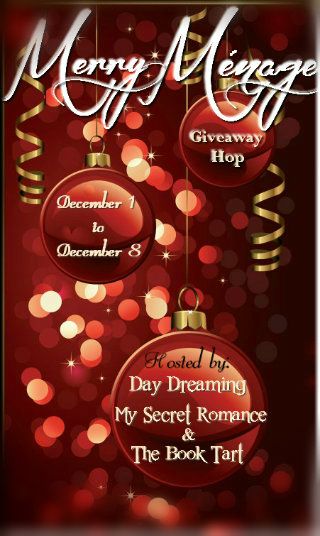 Today is Day three in the Merry Menage Giveaway Hop and we have Karen Erickson with us today!
When I started looking for books to feature on the Merry Menage Hop I saw Karen had a few and was so excited when she said she wanted to be apart of this. Holiday themed books for me have always been fun and Karen knows just how much havoc, heart, and heat to add to a book to make it a winner for me.
Want a taste of Karen's holiday-themed books?
Try her holiday FREE reads? Check out
Hot Santa
and
All I Want for Christmas
I have such a serious addiction to holiday romances, it's pitiful. Not only do I love reading them, I enjoy writing them too. And to prove it, I created a page this season featuring all of my holiday-themed novellas and books. Including my recent release, JANE'S GIFT.
A fire captain afraid of commitment. A widow afraid of fire. Can the holidays bring them together?
A devastating house fire cost Jane Clark nearly everything: her husband, her confidence, and her looks, with the physical scars marbling her body. Now, two years later, she's living and healing back in her childhood hometown of Lone Pine Lake. The upcoming holidays are the perfect opportunity to bring some Christmas cheer into her young children's lives, starting with a visit to the firehouse, where her brother's best friend has offered to help quell their residual fears.
Lone Pine's resident playboy, fire captain Christian Nelson is happy with his single-guy lifestyle. He's an everyday local hero, so he's never wanting for attention around the holidays. But when Jane Clark shows up, Chris is immediately drawn to the beautiful widow--even though kids and commitment have never been his style.
Despite her brother's warnings about his friend's playboy status and dangerous occupation, Jane can't help but fall for the gorgeous fire captain. The holidays are a time of new beginnings, but can two scarred people find the strength to let go of their pasts to live in the present, when a lifetime together might be the sweetest gift of all?
************************
In celebration of all this holiday happiness going around, I'm going to give away a copy of my sexy Christmas-themed novella FAIRIES & WISHES (I mean come on, a virgin fairy? You know you'll love it!) to one lucky commenter. Just answer this question in the comments:
Holiday books – love 'em or hate 'em?
************************
Lily the holiday fairy is given a new assignment this Christmas season—teach a lonely doctor how to love again. But this presents a major challenge. Lily gently coerces people how to embrace the Christmas spirit every year. She doesn't have a clue what love really is.
The holidays are always depressing for Tim Killian after losing his beloved parents in a terrible car crash. With no family to celebrate with, he throws himself into his medical practice to forget the pain, at least for a little while.
When he literally runs into a gorgeous redhead one evening and knocks her to the ground, he's struck dumb by her beauty. And when the very same sexy woman comes into his office the next day seeking medical attention, he's more than interested in his new—but odd—patient.
Soon Tim finds himself involved with the mysterious Lily, but so many things about her don't add up. Is she what she seems? And does he really want to fall in love with a woman he knows absolutely nothing about?
This book was previously published and has been extensively revised.
Happy holidays everyone!