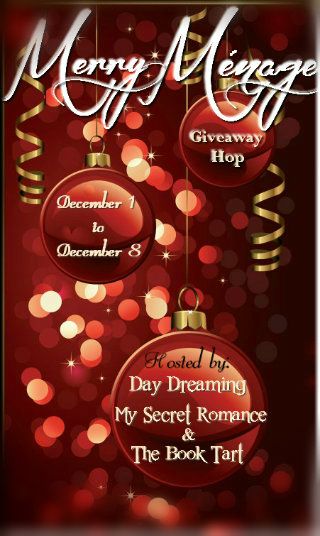 It's day six and we are almost done with the hop. I hope you are having fun and filling stocking and wishlists with all these wonderful authors, books, and prizes.
Today we have author Vivienne Westlake with us. Vivienne writes historical romance and like I have said before I'm a fan. I was lucky to have met Vivienne at RT 11 and have since been even luckier to call her a friend.
When she told me she was doing another book I got really excited and then she said it was a Christmas story and even better. Her first book
Lady Northam's Wicked Surrender
was great and I look forward to curling up with a warm blanket and diving into her new one.
So please let me introduce you to Ms. Vivienne Westlake...
Growing up, Christmas and Halloween were my favorite holidays. I loved Christmas mostly because of the delicious food and the Christmas carols. There is something warm and inviting about songs like "White Christmas", "Silent Night" and "All I Want for Christmas is You". And what girl doesn't like to sing "Santa Baby" at a Christmas party?
My favorite Christmas song is "Winter Wonderland". I just love the scene: a snowy lane, a young couple in love and children playing around the snowman. There's the sense of joy and fun and making the most of the winter season.
Growing up,
my
favor
ite traditional Christmas carols were "We Three Kings" and "What Child is This?" I fell in love with the melodies as a young girl and used to sing them to myself (and sometimes my dolls). I always loved singing and Christmas is a time when songs are filled with hope and people who don't usually sing like to get into the spirit.
So even now, there's something about Christmas music that brings back that feeling of childhood. The sense of hope for a new year and a new beginning, the joy of cuddling up with loved ones, and even the sillier times like building a snowman or roasting marshmallows by a warm fire.
Recently, I decided to write my first Christmas book. I wanted to capture that feeling of helping someone else in need (the hero rescues the heroine from robbers on the road and the heroine takes in a wounded man she knows nothing about). Both are fiercely independent and afraid of what falling in love could cost them. But Christmas is a time of hope and healing, when two unlikely people can discover that love is worth the cost.
Here is an excerpt from
A Marquess for Christmas
, which will be available at Amazon, Barnes & Noble, and All Romance eBooks at the end of December.
Excerpt~
It had been two days since the incident. She prayed it was the laudanum keeping him so dazed and not his injury. But they could not be sure yet.

"If he does not awaken in the next day or two, we shall have to fetch Doctor Littleton. For now, let us keep him cool and make sure that someone checks on him every hour."
Violet went to the window and opened it.
The sky was cloudy and the ground covered with a thin layer of snow. "The fresh, cool air should do him good." She rang the bell then went back to the bed and sat down.
The man's hands felt hot under hers, but she raised them to her cheek to be sure. Definitely too warm.

"My lady?" Miriam entered the room.

"Go and fetch some ice please. If there's no ice, send a footman outside and gather snow. We need to keep him cool until his fever breaks."
She leaned over to the small bedside table,
dipped a cloth into a small ceramic basin, and wrung it out. "I will see to him for a while, Avery." She looked up at him and smiled. "Thank you."

Gently, she took the cloth and wiped the man's face, always conscious of the bandage. She hummed as she worked. It was a very old song that she'd learned as a girl. Sometimes her mother would sing it as she stitched.

"Come live with me and be my love and we will all the pleasures prove. The hill and valley, dale and field, and all the craggy mountains yield."

She washed his arms, noting each twist and turn of muscle. She even tested it with her finger to see if it was as firm as it appeared. Nothing about him was soft--except for his lips and the silky threads of his hair.

She brushed the towel over his neck and down to the exposed skin at the opening of his tunic. The hair there was thin and fine. She couldn't help but stare as she swept over his chest. His nipples were wide, but tightened into little nubs when she touched them.

What would it feel like to run her palms over them? Would they react to her as they did to the damp cloth? What about her mouth?

Violet turned away and blushed. She closed her eyes and willed herself to remember him fighting off the thief and the moment when he'd taken the fateful blow. She needed to focus on her task and not on the yearnings she felt for a man she barely knew.

She might be fantasizing about a man of base morals or a man with a wife and four children. Or, what if he was a clergyman? That she doubted, considering his skill with weapons and his readiness to fight, but what gentleman would watch an innocent woman get attacked by thieves and not come to her rescue?

A man does what needs must. Even a man of the cloth will take up a pistol if his life or his country demanded it. She had seen boys barely old enough to carry a gun with gaping holes in their chest and villages ravaged and burned in the war.

And this man would die like the rest, if she did not do her duty to him. He'd saved her and now she must do the same for him.

With such thoughts distracting her, she didn't realize she'd paused her singing until she heard a low, gravelly voice.

"Sing."

She looked down to see dark eyes watching her.

"You are awake!"

"Sing," he repeated, but he'd barely finished the word when a ragged cough took over his body.

"A belt of straw and ivy buds, with coral clasps and amber studs, and if these pictures may thee move, come live with me and—"

"Be my love." His voice was hoarse, even more than she expected for someone who'd slept for two days. She lifted from the bed to pour water from the pitcher into a cup.

When she lifted the cup to his lips, he coughed and it dribbled down his chin. "Easy." They tried again, but still, most of the water ended up down his chest. His tunic absorbed the excess liquid and clung tightly to his body, so she could see every line and curve. His nipples hardened again.

"Let me try this another way," she said. This time, she dipped her fingers into the cup and let the water drip into his mouth.

He opened wide for more. She leaned closer, her bosom near his face, and poured more water from her fingers.

After the third time, he put her two fingers to his lips and sucked them. A flash of heat shot through her limbs. If she'd been standing, she would have faltered and lost her balance.

His mouth was hot and she suspected it had little to do with his fever.

"More," he whispered. He stared at her and she could not move, could not speak.
Vivienne has offered up a $10 Gift card to one lucky winner. Be sure to fill out BOTH Rafflecopters to be entered to win.
About this author
Vivienne Westlake Romance
The Playground of Sassy Witches & Demons,
Clever Ladies, and Redeemable Rakes
www.viviennewestlake.com
My Blog
Available on Kindle, Nook and Smashwords -
Lady Northam's Wicked Surrender
Do you have a favorite Christmas carol or song?
a Rafflecopter giveaway
a Rafflecopter giveaway