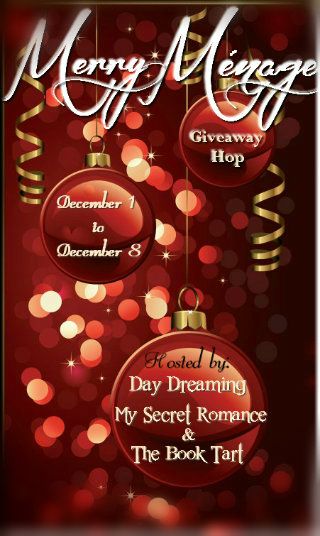 It's day two in the Merry Menage Giveaway Hop and we are going to get musical with Shelli Stevens...
I love the holidays. I want to bask in the music, decorations, and overall festiveness of it all for months on end. I confess, I bring out the Christmas music mid-November. Right after my daughter's birthday, but before Thanksgiving.
I even workout to Christmas music. And today, I'm sharing a list of my favorite songs that get me up and going on the treadmill. Try it! You won't regret it :P
Wizards In Winter by Trans-Siberian Orchestra
All I want for Christmas is You by Mariah Carey
Happy Christmas by John Lennon
Sleigh Ride by Ella Fitzgerald
Amen by Take 6
The Nutcracker Suite by Brian Setzer (From Elf)
Christmas Sarajevo by Trans-Siberian Orchestra
Do they Know Its Christmas
by Band Aid
Pennies From Heaven by Louis Prima
Someday at Christmas by Stevie Wonder
Purple Snowflakes by Marvin Gaye
(cool down song)
Shelli has a new release just out November 27th just in time to put on your holiday wishlist...
Someone wants her. And someone else wants her…dead.


If life as a not-fully-human has taught Agent Grace Masterson anything, it's that she'll never again be anyone's sitting duck. Whoever is deftly evading the traps around her remote sanctuary outside Seattle, she intends to shove his easily sensed self-confidence way, way up where the sun don't shine.
When she comes face to face—and body to body—with Darrius Hilliard, relief and lingering guilt over past choices weaken her knees. Plus something bad. Really bad. A surprising, intense desire for her fellow agent.
Darrius knows what Grace needs, and it's not the kid-glove treatment. If she's ever to overcome her past trauma and return to full active duty status with the P.I.A, she needs a strong shoulder. Yet he's shocked at how quickly he's become physically and emotionally entwined with her.
Fighting their growing attraction to one another becomes secondary, though, when it becomes clear that someone not only isn't thrilled at Grace's return, they want her gone. Maybe even dead…
It was a little hard to focus with Grace wearing her pajamas—pink plaid boxer shorts and a skintight tank top. She'd obviously showered. Her hair, still damp, hung in loose, dark waves down her back. And she smelled sweet. Whatever soap or lotion she wore had to have some kind of cinnamon scent to it.
Every breath he took in just upped his awareness of her—made him want to gather her into his arms and press his lips to the curve of her neck. He needed to find out if she tasted as sweet as he knew she would.
Knowing she waited for his reply, he finally settled for saying the only thing that he could think of. The only thing neutral. "I figured you might want to talk about what happened today?"
He watched the tension invade her body, the wariness flicker in her eyes.
"Which part?" She pulled away from the counter and held up her hand. "Actually, don't answer that. You figured wrong. No, I don't want to talk about any of it."
She walked past him, away from the bedrooms and toward what seemed to be the living room.
His gaze unwillingly slipped to the curve of her ass, and his blood rushed south. His jaw flexed as he took in the long, pale legs that ended in bare feet. Feet that were nearly running through the plush carpet to move away from him.
"It's late. You shouldn't be here anyway."
He caught up with her and grabbed her arm, swinging her around. "You think I don't know that?"
"So why are you here?" There was desperation in her voice now, as if she dreaded the confrontation that had been building.
"I don't know. I don't fucking know. I just found myself driving here instead of home tonight."
"Okay, you know what? Not an acceptable answer."
"Maybe not. But here's what I can tell you." His fingers slid over the soft skin of her upper arm, holding her still as she tried to pull away. "There was this cute blonde at the bar tonight and we were in her car. She was all set to let me fuck her."
Shock flared in her eyes, and then disappointment, before her gaze turned hard and cold. "What, is crude the new charming with you, Hilliard? Look, I don't doubt you can get laid. No one is going to dispute that," she ground out, "but I don't need you to show up at my house to give me a blow by blow, okay?"
"I think you do need to hear this, because you're part of the damn problem."
She stopped trying to pull away and let out a growl of fury, going toe to toe with him now. She was several inches shorter than him, but she could intimidate the hell out of most people.
But instead of intimidating him, the anger and passion in her gaze lit a spark to the embers inside him. Made what little control he'd had when he arrived, snap.
"I am not part of your problem. If for some reason Little Hilliard didn't want to get up and play, they have convenient blue pills for that. So why don't you go bum one off your dad and hightail it back to the bar and finish where you left off with your blonde friend?"
Hilliard stared at her for a moment, letting the words sink in with disbelief. And then he laughed.
"You think I…" He shook his head and laughed harder, but it wasn't really driven by amusement. More so frustration. "I didn't sleep with the woman, because I couldn't even kiss her without thinking about you."
That shut her up. Grace sucked in a breath and she seemed at a loss to say.
"But I tried." His jaw flexed. "Because wanting you is a damn inconvenience, Masterson."
Again she didn't say anything, but he didn't miss the dilation of her pupils or the way her breath quickened.
He released her arm and used both hands to push back her hair over her shoulders before cupping her face. "I'm tired of running from this. So why bother trying anymore?"
Realization flickered in her eyes. "Hilliard, don't you dare."
Too fucking late. The wolf inside him had taken over the reins and was playing the game his way now.
He pulled her hard against him and covered her mouth with his. Expecting her knee in his crotch, he was shocked when instead her fingers curled into his shirt and she tugged him closer. She wasn't fighting him, but again matching him with everything she had.
Shelli Stevens has offered up a $10 Amazon Gift Card to one lucky winner who fills out the Rafflecopter. Wish you all luck and Happy Hopping! xoxo
a Rafflecopter giveaway
a Rafflecopter giveaway