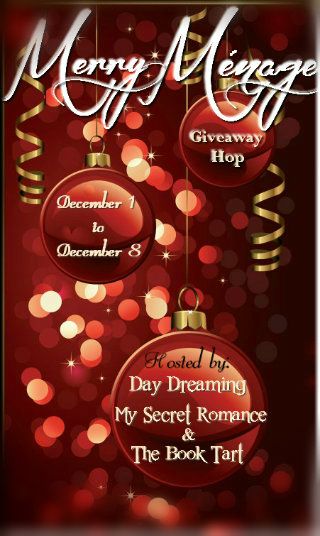 We are at out half way point today, day four and we have Laura Hunsaker with us. Laura is not only a great author she is a fantastic reviewer/blogger as well! This women reads A LOT too! I'm not sure how does it all but she always seemd to make it fun.
So please welcome Laura Hunsaker...
My latest story Highlander Reborn is a mash-up of genres, so to speak. My hero, Nevin, is a blacksmith from the Highlands of Scotland when he's turned into a vampire. He's fighting the Nightkind when he's killed, and Amalia, a vampire queen who's been watching him for a while, can't bear letting him go. So she turns him. And she knows that when he wakes, he'll hate her for it.
I wanted to write about two of my favorite genres-Highlander Romance, and Vampires. I loved this so much, I'm hunting for more fun genre mash-ups. So I was wondering what type of mash-up would you love to see?
And just to be fun, I thought I'd share my book wish list, since it's close to Christmas, after all.
1.Shadow's Claim by Kresley Cole
2. Forever A Lord by Delilah Marvelle
3. Last Kiss Goodnight by Gena Showalter
4. Edge of Dawn by Lara Adrian
5. One Good Earl Deserves a Lover by Sarah MacLean
6. Darkest Craving by Gena Showalter
7. MacRieve by Kresley Cole
8. The Cursed by Alyssa Day
9. The Duchess War by Courtney Milan
10. The Seduction of Elliot McBride by Jennifer Ashley
Laura has kindly added an ecopy of Highlander Reborn to the Prize package! Be sure to fill out BOTH Rafflecopters to be entered to win all the prizes.
Highlander Reborn begins in Scotland, many centuries ago, where a blacksmith fights for his life and his people. His life is forever changed when Amalia, one of the Nightkind, makes the choice to save his life. But first, he has to die...

1304…

After Nevin MacLachlan's wife was killed by a vampire, he made it his mission to hunt them all down. But one late Highland night, in a battle he couldn't win, one of the Nightkind ripped open his throat. With his blood draining onto the grass, the last thing Nevin sees isn't a white light; it's the dark of night closing in on him.

Amalia has been enamored with the blacksmith ever since he first held a stake to her heart. Watching him die was unacceptable. Will he ever forgive her for turning him into what he hates most?

Nevin has lived his life alone for a reason. When Amalia walks back into his life seven centuries later asking for help, he wants nothing more but to turn his back to her. But something about her still calls to him.

Some of the Nightkind in Amalia's seethe have been killed. It's up to her to find Nevin and ask for his help. But how can she show Nevin that she isn't the monster he thinks she is?
* Book two Highland Games comes out in December
For more about Laura Hunsaker:
Facebook: https://www.facebook.com/LauraHunsaker
What are some of your books on your wishlist?
a Rafflecopter giveaway
a Rafflecopter giveaway