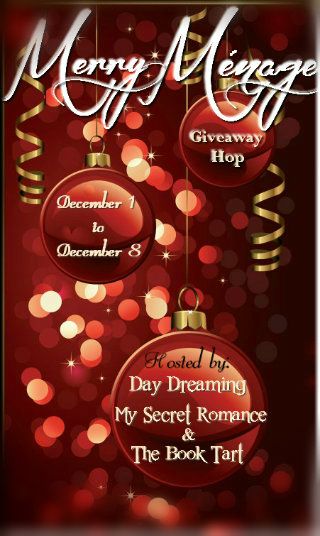 Do you know Suzan Butler? I just met her myself and I can't wait to read her! Like a lot of my "new to me" authors I met Ms. Butler on Twitter through another fabulous author
Sidney Bristol
. I was talking to Sidney and telling her I was looking for some Christmas book and she said I had to read Suzan Butler's newest release cause it was GREAT!
So of course after I receive a recommendation I had to reach out and see if I could get Suzan to come hop around with us for our Merry Menage and she said YES! So read on and see why she fits this hop perfectly and why I can't wait to read her...
Why Christmas Trees Rock
The holidays is my favorite time of year. And of all the holiday traditions, my favorite is the Christmas tree. It has such a rich history, stemming from ancient times when people hung evergreen boughs over doors and windows—it was believed that evergreen would keep away evil spirits and illness—all the way to the early twentieth century when Americans began using homemade ornaments.
Decorating the tree every year is an activity that was much fun in my house, and continues to be as I get older. Nothing makes me happier than to see my own family smiling and fighting over who gets to hang what ornament. It's a time for family to come together. It's a time for couples to spend time together and learn about each other, or reaffirm their own bonds with each other.
That's why in my story, O Christmas Three, the tree is a place of peace for the characters. Brianna has the same love of Christmas trees that I do, and so she tends to seek her solace close to it. My favorite scenes to write all centered around that tree, whether it was the characters having that heart to heart by it or admiring an ornament.
Here's some fun facts about Christmas trees. Thanks to History.com for providing these.
·
The tallest living Christmas tree is believed to be the 122-foot, 91-year-old Douglas fir in the town of Woodinville, Washington.
·
The Rockefeller Center Christmas tree tradition began in 1933.
Franklin Pierce
, the 14th president, brought the Christmas tree tradition to the White House.
·
Since 1966, the National Christmas Tree Association has given a Christmas tree to the President and first family.
·
Most Christmas trees are cut weeks before they get to a retail outlet.
·
100,000 people are employed in the Christmas tree industry.
·
98 percent of all Christmas trees are grown on farms.
·
More than 1,000,000 acres of land have been planted with Christmas trees.
·
77 million Christmas trees are planted each year.
·
On average, over 2,000 Christmas trees are planted per acre.
·
34 to 36 million Christmas trees are produced each year and 95 percent are shipped or sold directly from Christmas tree farms.
The holidays are a lot of fun. Like in O Christmas Three, they can bring people together who might not have been open to it originally. That's the real power of the holidays. There's just something about it that resonates with people, draws them together. I look forward to that time after Thanksgiving in which I get to have that special time with my family and decorate our tree for the holidays.
Title:

O Christmas Three

Genre: Contemporary Ménage
Release Date: October 2012
Length: Novella
eISBN: 978-1-938927-02-7
Blurb:
Garrett and Brianna Zane have the perfect marriage on the surface. They share everything from love to their wildest sexual desires with ease. So when Brianna confesses she wants a threesome with his best friend Leobardo Vasquez, it awakens feelings Garrett has long tried to forget.
But the smoldering attraction between Leo and Brianna is hard to deny and even harder to dismiss when it's all he can think about, especially when the three are trapped together in Leo's cabin during a snowstorm. Seducing Leo will test their relationship, reveal old secrets, and maybe tear them apart. While there may be room for Leo in bed, there may not be room for a third in their marriage.
Trailer
:
http://youtu.be/iVna-YVxU1s
Website Link
:
http://suzanbutler.com/bookshelf/menages/o-christmas-three/
Excerpt:
Leo knelt by the fireplace to put another log on. Watching the glow of the fire made his face warm, a sharp contrast to the biting, cold snow falling outside.

He knew Garrett was behind him even before he sat down on the rug. His whole body was attuned to him, the fine hairs on his body standing on end. Garrett's hands rested on his shoulders. After ten years, there shouldn't be this awkwardness he felt around his best friend.

"You all right?" Garrett's voice was like a purr across his body. His muscles relaxed. Years of taking his aggression and resentment out on the ice vanished in light of that single touch.

"I'm good." His breath shuddered on the exhale.

How long had it been since he'd been so close to Garrett? It was since before Brianna. Ten years? Eleven? They'd not dated long before getting married.

Leo had stepped aside, let Garrett have the fantasy life he so deserved. The hockey community was not as forgiving of his bisexual nature anyway, and they liked infidelity even less.

"Liar," Garrett replied softly, his breath hot on Leo's neck.

"What are you doing, Garrett?" He didn't turn toward the man, because seeing him would have done him in. He'd made the choice long ago to let Garrett go.

"Remembering what I want," the other man replied. Leo groaned when Garrett's lips touched his neck, a war brewing within him between what his body wanted and what his mind could handle.

He wanted Garrett as soon as the couple had walked through the door. But he didn't want to hurt Brianna. He respected her too much for that.

"We can't do this, Garrett. Brianna—"

"Brianna knows," his best friend replied. Leo frowned and tried to move away. She knew, and she was okay with this? What exactly had Garrett told his wife?

Garrett palmed Leo's cheek and turned him until they were face to face. Leo's heart pounded, his breathing shallow. Garrett leaned forward and took his mouth, no hesitancy, no restraint. He would have let him keep going, pressing on, but Garrett broke the kiss, like they had all the time in the world. His arms trembled as he leaned away from Garrett.

"This isn't right, Garrett," he whispered. "Even if Brianna knows…"

"It is right. Brianna wants this, too. I'm hoping you'll realize that this week." Garrett pressed his lips to Leo's briefly before standing. What did that mean? Was he saying that he wanted it to be like old times, with the woman in the middle? It seemed that was the only way he and Garrett would ever be together now. Did he dare even ask the man what he was thinking?

Leo stared at him. He wanted that man more than he'd ever wanted another human being, ever. He wanted him to speak so his voice could sink into his blood and his bones, to memorize every inch of his face, from his bright eyes down to the dimples on his cheeks.

He stood up carefully, still shaking like crazy, and stumbled over to the kitchen bar. He picked up the glass of wine he'd left there and downed it in one sip. When he looked back at Garrett, the man's eyes were focused on his mouth, following his tongue as he swiped it across his lips. His eyes were hot and filled with desire. Oh, this is not how he'd expected to spend the first night with his best friends this year.

"Brianna knows about this?" Leo asked, his voice stronger than he'd thought it would be. He waited for his friend's nod before asking, "What did she say?"

"Why? Do you really want to know if my wife is okay with this," Garrett approached him, and leaned into Leo's ear, "or do you want to know if she's interested in you?"
Suzan Butler has a penchant for Dr. Pepper, ice hockey, and world domination. She lives in Texas under a not-so-secret identity with two monsters, writing naughty books and planning the next step in her evil plans into the twilight hours of the night because that's when it's quiet in the house.
Amazon: http://amazon.com/author/suzanbutler
Remember to fill out BOTH Rafflecopters to be entered to win the prizes!! Suzan Butler has offered up an ebook copy of O Christmas Three to one lucky winner.
Do you have a favorite Christmas tree doecoration or tradition?
a Rafflecopter giveaway
a Rafflecopter giveaway