Okay, so I have a confession *bows head in shame* I don't read many "Cowboy" books, other then those by the authors we are featuring this week that is. So coming up with books to recommends this week was hard for me.What I did instead was I posted some books that caught my attention :) or have been recommend to me by Amazon or Goodreads.
Please take a look, let me know what you think.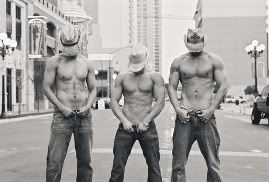 First in a new series about some hard-riding rodeo cowboys...and the women who can rein them in.
Sports therapist Lainie Capshaw has been rehabilitating injured cowboys long enough to know that a charming western drawl combined with a fine physical form doesn't mean you fall for the man.
So no one is more surprised than Lainie when she finds herself involved with not one, but two different men: Hank Lawson, a bullfighter, and Kyle Gilchrist, a bull rider. Lainie feels guilty about her two-timing, but it doesn't keep her from doubling her fun-that is until Hank catches her with Kyle.
She's shocked that Hank isn't mad. But she's more shocked to learn Hank and Kyle are hometown buddies. But when the men offer to share her-in every way-she knows that she's going to have to choose the one man who can give her the ride of her life...
Other Books By Lorelei James:
Delilah Devlin
These cowboys like the horses fast, and know exactly how to spur a woman toward her greatest pleasure…
Saddled
After rescuing a beautiful woman when her car slides into an icy creek during a snow storm, Bobby Blackhawk and Cale Yancey do the only thing two lonesome cowboys can—they take her to their isolated cabin and get naked.
Unbridled
Justin Cruz has waited a long time for this moment. He knows his bad-boy reputation, but since he seduced Rowe Ayers, he's been a one-man cowboy—waiting for pretty Dani Standifer to return and become the delicious fulfillment of his and Rowe's needs. If she's up to the challenge.
Unforgiven
For Cutter Standifer, the pretty little redhead who opened a café in Two Mule, Texas, was "the one". Until he caught her in a compromising position with the town's worst womanizer. A year later, he still can't forgive Katie Grissom. And forget? Forget, hell. He's ready to kick his code into the nearest manure pile and take what he never had from her—full satisfaction.
Other Books By Delilah Devlin:
Kate Davies
It'll take more than one go-round to win this rodeo of the heart…
Thirteen years after her father was killed in a rodeo accident, Samantha Quincannon is facing her worst nightmare. An EMT, she has avoided rodeo duty like the plague. Now her career depends on her ability to face down her fear.
Cody Shaw hasn't seen Sam since the night of her father's accident, and their reunion is anything but typical. So is her reaction when a bull ride gone wrong lands him, broke and bleeding, in her reluctant care. And, until he's well enough to travel, in her bed. He knows he's far from a model patient, but would it kill Sam not to act like she'd rather climb on a bull herself than have him underfoot?
One thing hasn't changed—their off-the-charts sexual tension. They both put up a good fight, but soon the heat burns through their resistance.
Even as Sam fights to protect her heart from the one danger she didn't see coming, something else becomes clear. Rodeo is in Cody's blood, and nothing, not even Sam, can make him quit taking crazy risks.
It's up to Sam to decide if she's ready to put on her big-girl boots—and ride.
Other Books By Kate Davies:
Love takes courage. Loving two men takes twice as much.
At seventeen, Tommy Ambinder was Annie Parsons' first love, the center of her world. Almost. There was a secret spot reserved for Judah, Tommy's elder brother. On the day she discovered Judah wanted her, as well, the aftermath drove Annie out of town—and a wedge between the men she loved.
Now, haunted by guilt, Annie has returned to Melgrove, Montana, with one hope in her heart—that twenty years has overcome the rift between the Ambinder boys. If they've mended fences, maybe she can repair her own life too.
Tommy's missed Annie all these years, but he never realized how much until one glimpse reignites the passion that time hasn't quenched. Something else hasn't changed, either—half of her heart still belongs to Judah.
Now, with Annie poised to run again, history is threatening to repeat itself—unless one of them has the courage to break free of the pattern and blaze a new trail that's wide enough for all three.
Warning: this book contains all the volcanic intensity of first love, searing-hot sex scenes, and two brothers sharing the one woman they love!
Other Books By Sierra Dafoe:
Sayde Grace
Raised by parents who don't believe in affection, Melanie Brantley developed a hard-edged outlook on life...and love. But then along comes a cowboy who makes her blood boil, and not only with anger. A fact that scares the hell out of her. Enough that she seeks solace at Minx, a club that caters to the more carnal pleasures.
After recovering from a bull ride gone wrong, Lance Wright is ready to move forward and he's set his sights on Melanie. Her temper tells him all he needs to know about the passion he'd find in her bed. The wildcat fights him every step of the way, but she's in for a surprise. The harder Melanie bucks, the more Lance wants to ride.