Today is Gina Gordon Day and she is starting our final week in the Sweet, Sexy, Scorching Hop!!! I'm excited to host Gina, she is a "new to me" author but I was very lucky to meet at RWA in California this year. She was so sweet and friendly and Damn look at these covers I want to READ her like NOW!! Take a look for yourself...
(Bare Naked Designs Book 1)
How far would you go to hold on to forever?

Martina Jackson spent the last two years running from her past. Through the practice of Holistic Medicine she has meticulously transformed into a self-fulfilled woman, with one tiny exception…hot, steamy sex with no strings.

While she waits for the job offer of a lifetime, why not quench her sexual desires with an eager man willing to push her to the limit? What she doesn't plan for is, the fling is exactly what she's been running from.

Rob Taylor has been waiting his whole life to find the woman he can call forever. He didn't expect to find her in his parents' living room wearing nothing but white lace and stockings. When he overhears her discussing her secret sexual fantasies, Rob decides to give her what she's been missing.

As they play out each fantasy he connects with Martina on a deeper level, confirming what he knew the very first moment he heard her voice…that she is the one he's been waiting for.

Content warning; explicit sex, ménage and the use of Holistic Medicine as foreplay.
(Bare Naked Designs Book 2)
Are you willing to risk it all and give in to temptation?
Carrie Taylor can't believe her luck. Along with her own lingerie line she's now the proud owner of Satin and Lace, a specialty lingerie store. She has everything she's ever wanted...except Aleks Turko. After a lifetime spent pining over the man she can never have, Carrie decides to take back her love life. Vowing to get him out of her system once and for all, she propositions Aleks for a one night stand.
Growing up without a mother and with an uncommunicative father, Aleks Turko sought comfort in the arms of the Taylor family. As an adult, he now has everything he needs - a second family, good friends, and a bottomless barrel of women. But over the last few months vivid, sexual thoughts about Carrie have become a regular occurrence. He's managed to keep his urges at bay, but when he walks in on her wearing one of her lacy designs, all bets are off.
When what was supposed to be a one-time affair snowballs into a battle of wills, Carrie and Aleks must decide if they should risk everything and give in to temptation.
Contains explicit language, sex and an unorthodox use of a fitting room.
(Bare Naked Designs Book 3)
Being bound together was never part of the plan.
Amie Woods is living the life she wants, but her search for a man who can keep up with her sexual demands has tested her faith in Happily Ever After. Milton Campbell bears the weight of the world on his shoulders, but when he has the opportunity to re-ignite old friendships, it reminds him of a time in his life when he knew how to have fun.
When the two meet, sparks fly--and not the good kind. Their dislike for one another is second only to the sexual attraction simmering between them. A twist of circumstance lands them in the same bed, and Milton jumps at the opportunity to put his pleasure in Amie's hands. A two-week fling might be exactly what he needs to bring back his love of life, and Amie can't throw away the opportunity to be herself--both in and out of the bedroom.
At first, they seemed all wrong for each other. But when "casual" builds into something more, Amie and Milton must decide if they're willing to risk being bound together by love.
Contains explicit language, sex and a torturous strip tease in leather.
More About Gina:
When her dream of becoming a mafia princess didn't pan out, Gina Gordon went after her second dream…becoming a writer. And she hasn't looked back.
Gina, a self-proclaimed happily ever after junkie and cupcake connoisseuse, loves spinning contemporary tales of knee bending first kisses, unconditional love and super-hot sex. She broke out onto the romance scene with her #1 Amazon Bestselling erotic short story Her Five Favorite Words that's been called a "deliciously naughty tale" by Joyfully Reviewed.
When not chained to her computer, you can find Gina sipping Starbucks, making cupcakes or feeding her addiction to celebrity gossip. She lives in Milton, Ontario with her husband and loveable dog.
Gina is going to give one lucky winner her
Bare Naked Designs series ( Forever in Lingerie, Temptation in Lingerie and Bound in Lingerie)
. Remember, every day there will be a different author all blogs involved in the hop, over the next few weeks we will highlight authors books, post excerpts, guest posts and a "Guess Who" (this will be on a different blog each day). See if you can find the "GUESS WHO" post for every author - Can you guess who they are talking about? Every week there will be winners as well as a grand prize winner at the end of the hop - this prize is growing daily, you won't want to miss out. So be sure to stop by each blog daily to comment (leave a contact email) and enter the rafflecopter as well.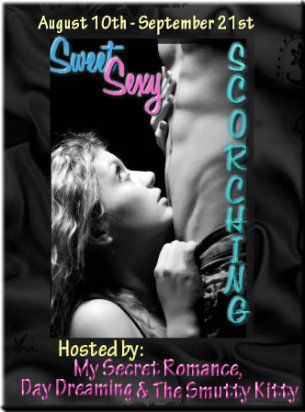 BEST OF LUCK!


This is a Blog Hop!