Well this is a great series full of sweet passion and down home goodness.There are currently six book out right now as part of the Konigsburg Series but
Fearless Love the seventh Konigsburg book will be released by Samhain Publishing on October 9
.So read up and get ready to fall in love with this Texas town.
Konigsburg is a typical (although mythical)
Texas Hill Country
town. Tourists are its principal industry, meaning it specializes in wonderful food, quaint bed and breakfasts, and a couple of local wineries.
This particular Hill Country town also specializes in tall, broad, good-looking guys, including the Toleffson boys and their friends. Transplants from Iowa, the Toleffson brothers--Cal, Pete, Lars, and Erik--are all looking for the good life, Texas style. And naturally that involves finding Ms. Right. And there's a complete cast of friends, relations, and associates that more than fills up the town!
Wedding Bell Blues
Konigsburg, Book 2
Who knew you could find the love of your life at the wedding from hell…

Janie Dupree will do anything to make sure her best friend has the wedding of her dreams, even if it means relinquishing what every bridesmaid covets and never gets—the perfect maid-of-honor dress. Problem is, family drama as tangled as a clump of Texas prickly pear cactus threatens to send the skittish bride hopping aboard the elopement express.

Janie could use a hand, but the best man's "help" is only making things worse.

Pete Toleffson just wants to get through his brother's wedding and get back to his county attorney job in Des Moines. He never expected to be the engineer on a wedding train that's derailing straight toward hell. Janie's the kind of girl he'd like to get close to—but her self-induced role as "Miss Fix-It" is as infuriating as it is adorable.

If they can just fend off meddling parents, vindictive in-laws, spiteful ex-boyfriends, and a greyhound named Olive long enough to achieve matrimonial lift-off, maybe they can admit they're head-over-heels in love
Snippets from Wedding Bell Blues:
So here's a little more from the first love scene in
Wedding Bell Blues
. Janie is teaching Pete to dance. Or anyway, that's what she thinks. Of course, things begin to move beyond dancing pretty quickly.
Janie rose against him, her legs opening against the warm heat of his arousal, trying to find the right spot as her head swam.
She was losing it—she needed to pull away, right now, but she didn't.
She moved closer, slipping up onto her toes until the V of her crotch fit across his groin. Pete groaned, his arm fastening tight around her waist, pulling her flat against him.
And then he raised his head to stare down at her. "Janie Dupree," he said softly, "you are lightning in a bottle."
________________________________________
Janie could feel the smooth plane of his body pressing against her breasts; an ache had started low in her body that had nothing to do with exhaustion and everything to do with Pete Toleffson. She closed her eyes and let her cheek rest against his chest for a moment, feeling warm skin and smelling faint hints of sweat and aftershave, letting herself relax against the hard muscles of his chest and thighs.
One muscle was very hard indeed.
What the hell was she doing? Pete Toleffson stared down at her, his eyes obscured in the dim light. "Something wrong, Ms. Dupree?" he murmured.
In this scene Pete and Janie, who've been circling each other for several days, are finally going to get it on. Of course, they've had a little push from Janie's ex-boyfriend. And this, in turn, makes Janie a little nervous.
"Tell me the truth, Pete Toleffson—are you doing this because you feel sorry for me?"
"Sorry?" He was having trouble focusing—what exactly was she talking about, and why had she stopped kissing him?
Her jaw firmed. "Are you sorry for me because Otto dumped me so publicly?"
Good Lord, she was serious!
A little about Ms. Meg Benjamin:
Before I came to Texas twenty years ago, my husband and I lived all around the U.S., including Kansas, Iowa, Washington, Oklahoma, Alabama, Colorado, Massachusetts, and Pennsyvania, with brief visits in California, Connecticut, and New Mexico. In fact, one of my favorite things to do (in pre-gas price hike days) is to travel around the country, preferably off the Interstate.
A couple of years ago my husband took a new job in the Colorado foothills, so I've now relocated to the northwest Denver suburbs. It's a big switch, but my mom grew up on the Western Slope, and she gave me an abiding love of the mountains, so I'm not expecting too many problems (and no, I don't mind the snow).
In Texas I taught English, desktop publishing, Web design, and editing, among other miscellaneous things, before finally retiring after putting in my twenty-five. At the same time, I worked as a freelance writer and editor, on projects ranging from computer manuals to underwater photography books.
My husband and I managed to raise two wonderful sons, along with a variety of cats and a couple of dogs. We still visit South Texas, and we still love to wander around the country when the spirit moves us, although these days we're likely to fly in and rely on public transportation (let's hear it for light rail trains!).
Visit me on
Facebook
Twitter
.
Pinterest
.
I love hearing from my readers. E-mail me at
meg@MegBenjamin.com
Meg Benjamin is also a member of the Nine Naughty Novelists. Do you know who they are? If not you should! Check out these funny collaborative pieces of work they have created.
Pick up Meg Benjamin's books at:
Amazon
Barnes and Noble
Samhain Publishing
Remember, every day there will be a different author all blogs involved in the hop, over the next few weeks we will highlight authors books, post excerpts, guest posts and a "Guess Who" (this will be on a different blog each day). See if you can find the "GUESS WHO" post for every author - Can you guess who they are talking about? Every week there will be winners as well as a grand prize winner at the end of the hop - this prize is growing daily, you won't want to miss out. So be sure to stop by each blog daily to comment (leave a contact email) and enter the rafflecopter as well.
BEST OF LUCK!

This is a Blog Hop!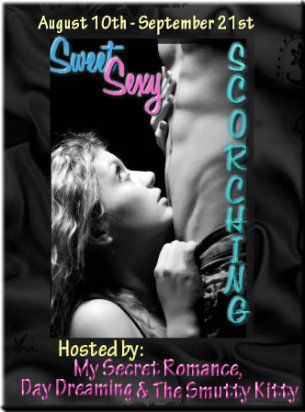 a Rafflecopter giveaway