I have been lucky to meet Mr. SL Carpenter on two occasions (RT11 & RT12). It's actually a really funny story how we met, lol.... it involves a waiting line, some paperwork, a little conversation, some drinks, and a tazer :)... enough said on that subject.
When I met him I had never read his books, did not know who he was but my friends with me looked at me and said so you know who your talking too?? NO... LOL Well since meeting this crazy guy I have read most of his books and either laughed myself to stitches or need a cold shower.
SL. Carpenter writes on his own and with his writing partner Sahara Kelly (who is one very beautiful, elegant, dirty woman) They are working on a new self-pub series called Working Stiffs, now I did say they were both naughty naughty writers and these stories do not disappoint! I mean come on how can they the series is called "WORKING STIFFS". Below is the story of how this new series came about.
PSSSTT... SL Carpenter did these covers too!! Check out his Deviant Art site it's amazing!!
People say that cell phones damage the brain. Well I think they stimulate mine because I get some great story ideas when I'm talking to my friends. I co-write with Sahara Kelly and we were having a cell phone conversation a while back, talking about what to write next. She and I both like to cut loose and have some fun when we get together and also like to do something a little different whenever possible. So we came up with an idea of doing a novella together, then a couple of ones on our own and then another co-written book. She made a comment about how I work too hard, I made a joke about working stiffs (go ahead, add your own punch line) and the title for the series was there right in front of us. That's kinda how it happened.
After that, we knew we wanted everyday people, nothing special, no super gorgeous dude with equipment that could get mistaken for a prize winning zucchini and no stunning skinny supermodels. Just regular folks finding the right working stiffs. And having a whole bunch of mega-hot sex, of course. Just like us regular folks. LOL
We have published two so far, ours - Hired Help; and Sahara's - Open House. I'm finishing up mine - Full Service; and after that we'll be ready to put the next joint one out. Look for all four in a print anthology maybe late this year or early next, if all goes well. The first two covers are below.
Yes, I'm doing the covers, of course. Sahara says she's getting spoiled and so far everyone has liked them. (Although we had to tone down Hired Help a bit for Smashwords. They were nice about it, but did say it was just barely over the line for some of their distributors. LOL First time I've had a cover banned!)
Hope you get a chance to try them out. They're quick fun reads with a steamy punch!
Hired Help-
Being a bodyguard for a rich widow is a pretty good gig for Mel Kent, a guy who can certainly guard just about anyone's body. However, he probably doesn't lust after them the way he lusts for Rose Jackson. She's young, bright and everything he wants - but can't have. After all, she's in charge of a multi-million dollar corporation and he's just the hired help.
Rose is more than a little aware of the hunk of masculine perfection guarding her body. She's indulged in a few fantasies herself, time permitting. Now that she has chance to take a night off, she decides to scratch that itch the professional way - at an exclusive resort where pleasure is the only goal. It's expensive, but ...
Open House –
Filling in for a vacationing salesman isn't Jeff McAdams' idea of weekend fun. But he's the architect of the development, so sitting in a model home and attempting to sell visitors on the ideas he's incorporated into his designs - it's something he doesn't really mind doing.
It gets a bit more challenging when his partner (and father) announces they've hired a new design team. Jeff takes it in stride, since he knows when it comes to the fancy stuff, he's no expert. Give him a ruler, a set of blueprints and an idea. Leave the soaps and toss pillows to someone else.
That someone else arrives late that afternoon. And when she walks upstairs she takes Jeff's breath away. It's Gabriella Rossini, the one girl he could never forget. Within seconds the heat between them flares and Jeff and Gaby soon realize that sometimes embers can simmer for years without dying.
And when rekindled, the ensuing flame could be hot enough to singe their eyebrows. Hmm. Something's burning in this Open House - and it's not the optional gas fireplace…

AND THIS IS WHAT"S NEXT!!!
Coming in Late September ~ FULL SERVICE by S.L. Carpenter
Books available at:
My name is S.L. Carpenter and I'm a writer and an artist, a husband and a father, a slave to the wife and an inspiration to other people I don't know. I call California home and have been here my whole life. I know...poor me.
I've been writing my special brand of insane little stories for many years, but it's only been in the last decade that I've managed to persuade folks to publish them. I expanded my backlist to include single titles, anthologies and several books co-written with my writing partner (and webmistress) Sahara Kelly. My most recent books are available at Samhain Publishing.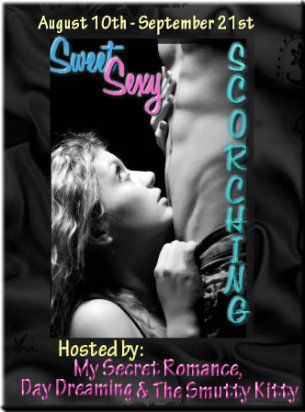 a Rafflecopter giveaway