We have an extra special day. What?? you ask yourself, well let me tell you...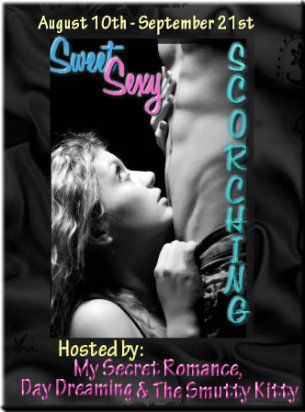 Today we have Ms. Kelly Jamieson with us and not only is she participating in our "Guess Who" Giveaway Hop BUT she is also including us in her HOT RIDE Tour Contest!! That's right one stop and two contests!!
Kelly Jamieson - Bio
I'm a married mother of two who lives a very ordinary life outside of my imagination. When I'm not writing I'm usually reading. I also like to cook and that means I like to read cookbooks and cooking magazines. In the summer I enjoy spending time gardening and in the winter I like to read gardening magazines and seed catalogues. I love lying on the beach or on my deck with a glass of wine and a good book. I also love to travel. As you can see, pretty much all my activities involve reading somehow! Although I don't have as much time for it any more, I also love to shop, especially for clothes and shoes. Some think I'm obsessed with shoes but that is not true (although my husband would point out that there is no room left in our closet).
I love to hear from readers, so Tweet me on Twitter, leave me a comment on Goodreads or Amazon or my blog , or email me at info (at) kellyjamieson.com.
Love Me

How far does she have to go to get his attention? Another girl's arms?
Melina Wenham is worried and frustrated. Lately, her boyfriend of six months seems to have lost interest in her. Yes, she knows he's stressed about his big project at work, but jeez, it seems like he'd rather go solo than have sex with her. Sexy lingerie, a Brazilian...nothing seems to get his attention.
Gavin's frustrated too. He's under enough pressure at work, without feeling more from Melina every time he gets home.
Another night, another party, and Gavin is off talking to the boys. Feeling ignored yet again, Melina confides her troubles to an acquaintance, Abby, who suggests shaking him up by flirting with another guy. Hmm. Not a bad idea, except there are no flirt-worthy guys at this party.
Then Abby suggests a different tack—flirt with her.
Could a little girl-on-girl tango be the match that reignites romance with Gavin? There's only one way to find out...
Warning: Hot girl on girl scene!



This time, it's all about his ultimate fantasy. If she has the nerve...
The sequel to Love Me.
In a bid for her boyfriend's undivided attention, Melina indulged in a flirtation that led to an unexpected—and incredibly sexy—threesome.
Now, months later and on their way to the altar, she and Gavin don't talk much about that night. Except his confession that in his threesome fantasies, the two women are focused entirely on his pleasure.
Melina is a little uncomfortable about that—and more uncomfortable about the wild and wicked bachelor party his buddies have planned for him. She's no prude, but the idea of him being uh…attended to by unknown women is driving her crazy. Gavin agrees to a compromise, but it leaves her with a lingering feeling of guilt.
How to make it up to him? She has an idea…but does she have the nerve?
Warning: This story contains fighting, pouting, guilt, make-up sex, a threesome, and more make-up sex.

2 Hot 2 Handle



Abby Finlay sticks to one simple rule: no commitment. Ever. She's not a one-man woman—or even a one-woman woman. She likes sex, and she's not afraid to experiment. The secret to her success is never sticking around long enough to let anyone get past her tough, cynical exterior.
And that's what's making her nervous right now. The Look. In other words, the expression on two-months-steady Eric's face when he looks at her. It's got "next level" written all over it—and Abby's on alert to head for the door.
When Abby confesses to the sexual arousal she feels with his roommate, Jett, Eric can hardly believe his luck. He and Jett have been looking for that one perfect woman with whom to share their lives, and Abby is the missing piece who fits perfectly into the empty space.
Confronted with not just one man, but two who offer her the "C" word, Abby's buried fears come roaring to the surface. There's only one thing left to do. Run, before she hurts the two men who mean more to her than they should.
This is a Blog Hop!
Be sure to enter both contests!! Keep scrolling after the Rafflecopter to enter the next contest.
Kelly is also hosting another contest for her newest release
HOT RIDE! Don't forget to enter this contest as well!!
Courage is feeling the fear... then pouring on the throttle.
Abandoned or betrayed by everyone she ever loved, Sera Manning's life spiraled out of control until a near death experience left her with a mission. Now a DEA agent, her sole focus -- and her first undercover assignment -- is to take down a drug cartel that's manufacturing seductive, deadly angel sugar.
To do it, she needs access to Operation Black Abyss to establish a connection between the cartel and the Death Angels outlaw motorcycle gang. Which means she must pose as a couple with another agent who's already deep undercover.
ATF agent Ryan Thomas desperately needs a female agent to maintain his cover in the gang, but the last thing he wants is a rookie agent jeopardizing his op. Especially one that is a sexy reminder why it's a bad idea to get involved while on a case.
Living together, surrounded by crime, pretending their sizzling sexual tension is just for show is getting harder by the day. But as the mission comes to a head, the two fiercely independent warriors must decide which fear is worse. Losing their quarry... or losing each other.
Warning: Features a badass biker hero and kickass heroine who go at it undercover -- and under the covers.
a Rafflecopter giveaway
HOT RIDE Book Tour