Do you like it to get a little Nerdy with you Dirty??
If so you don't want to miss this new release from Cari Quinn!!
Network analyst by day, erotic romance writer by night Vincent Buonfiglio is dealing with a work-in-progress that has gone colder than winter in his hometown of Ridgley, North Dakota. So what does a man who needs to write hot do to get cranking?
Search out a woman for a night of no-strings sex, of course.
But his choice of partner, Katherine "Kiki" Wyatt, manager of the Quikky Snak Gas & Lube, isn't biting. Flirting over his nightly chili dog is one thing. But a date? Sex? Not happening. Vincent reminds Kiki way too much of her cheating ex-fiancé, and she's learned her lesson—dangerously sexy geeks with lots to offer outside the bedroom are off-limits. Until they're held up at the gas station, and Vincent gets shot protecting her. Then all bets are off.
With a painful shoulder injury and four weeks to get his book written, he turns to Kiki. She agrees to help him with his novel, but she doesn't expect to end up naked in the reformed womanizer's arms—or that helping Vincent write the spiciest book of the year will allow her to pen her own happy ending.
~Excerpt~
Vincent shot a glance at Kiki as she strode around the counter, dripping mop in hand. What did she expect to do with that? Blind the guy with soapy water? "Dammit, Kiki." Gripping her wrist, he yanked her against his side. "Don't be stupid."
"He's right, little girl. You don't want a piece of this."
"I'm not a little girl, Mr. Badass-behind-a-toy-gun." She shook off Vincent's restraining hand. "And I'm not in the mood to be told what to do."
"It's a toy?" Vincent pulled her back despite her warning glance. "How do you know that?"
"Don't you read the papers? This is the fourth place this punk has hit around here this month."
The robber glared at her. "If you don't open that register in the next five seconds, lady, you're going to need a new hairstyle to cover the hole in your head."
Fury vibrated through her small frame. "I've been held up enough times by you creeps. I've had it." She tightened her hold on the mop. "The register's staying closed, pal. End of story."
Even as Vincent grimaced at Kiki's pseudo-bravado, he reached out to clamp a hand over her mouth. Distracted by her squeaking and flailing, he almost missed the intention in the robber's panicked gaze.
Shit, shit, shit.
He grabbed Kiki and spun around. Fire exploded in his shoulder just as Kiki's scream sliced through "Grandma Got Run Over By A Reindeer."
Not the funeral dirge he'd always imagined, that's for sure.
"Oh, God, Vincent! Are you okay?"
Was he? He felt oddly calm, though he was pretty sure the muffled popping sound he'd heard above the music hadn't been Christmas fireworks.
Oddly calm, and really sleepy.
Vincent stared at Kiki, numbly absorbing the horror on her face. Her cheeks so pale. Her eyes so huge. Her pretty pink mouth hanging open as she gawked at his arm. She didn't make a sound, just stared.
Must be reconsidering sleeping with me. Who turns down a guy in glasses? Especially one who knows exactly where to find a woman's G-spot?
Author Bio:
Cari Quinn wrote her first story - a bible parable - in 2nd grade, much to the delight of the nuns at her Catholic school. Once she saw the warm reception that first tale garnered, she was hooked. She attempted her first romance in junior high, long before she'd ever read one. Writing what she knew always took a backseat to what she wanted to know, and that still holds true today. Cari's genres of choice include contemporary, romantic comedy, romantic suspense, urban fantasy and paranormal. Recently she discovered erotic romance. Oh, how far she's come.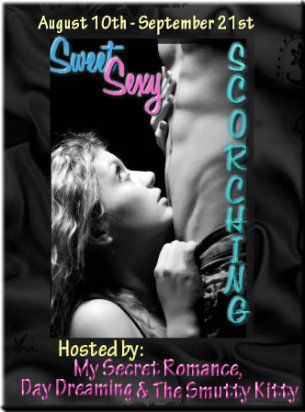 Cari will be giving away two ebooks to 2 separate winners, plus a $5.00 AMZ/B&N gift card to a 3rd (winner's choice.)

Remember, every day there will be a different author all blogs involved in the hop, over the next few weeks we will highlight authors books, post excerpts, guest posts and a "Guess Who" (this will be on a different blog each day). See if you can find the "GUESS WHO" post for every author - Can you guess who they are talking about? Every week there will be winners as well as a grand prize winner at the end of the hop - this prize is growing daily, you won't want to miss out. So be sure to stop by each blog daily to comment (leave a contact email) and enter the rafflecopter as well.

a Rafflecopter giveaway

BEST OF LUCK!

This is a Blog Hop!