Assassin
Book One in The Boundaries Series
Boundary Guardian Zeric Arctos knows trouble when he sees it – and Raavelian sex-slave Jaienna Ti screams all sorts of trouble. Tracking a nefarious Bliss dealer, Zeric must stay focused on the job, something almost impossible to do with Jaienna in his midst. To make matters worse, the seductive Raavelian brings out the 'animal' in him – an ancient blood curse he has struggled to control his whole life. The beast now threatens to consume him and Jaienna's intoxicating kisses makes the primitive call so much harder to resist.
Jaienna Ti is out for revenge. And she'll stop at nothing to achieve it. Posing as a sex-slave isn't the worst thing she's done – she is, after all an Intel-Patrol Corp termination agent, albeit a rogue one – but it's definitely one of the more interesting roles she's assumed. And it gets even more interesting when Zeric Arctos 'rescues' her.
Surely being an intergalactic sexual assassin has to come with some perks, right?
An erotic sci-fi romance.
Warning: Contains wild, explosive sex in space. Lots of wild, explosive sex in space.
Book Summary for Agent
Intel-Patrol Corp agent, Jaienna Ti has gone rogue. Now that she's saved her sister from a life of sexual slavery at the hands of a cruel crime lord, she is fighting a battle of a different kind – one involving her heart and the brooding Boundary Guardian, Zeric Arctos.
Zeric has his own battle. An ancient curse renders him a savage beast unlike any the Boundaries has seen before. Once only anger triggered the change, but now his driving hunger for Jaienna is threatening to set the werewolf free. And he doesn't know if he can control it.
When the head of the Intel-Patrol Corp sends an agent out to retrieve Jaienna, the two face a threat more dangerous than any before. Raq Tornada. Violent, tenacious and deadly, Raq is an agent to fear. He's also Jaienna's ex-lover. And he has a score to settle with her.
The Outer Boundaries is a dangerous cesspool of sin, lust and depravity.
And its about to get wild.
Warning:
There's still lots of wild sex in space going on…but now there's also a significant amount of violence. And sarcasm. And wild sex in space. Did I mention the wild sex in space?
My Review~
Are you looking for a Sci-fi erotic romance? Sex Slaves, Guns, Aliens, and Drugs does this sound interesting? If so this book is for you. Lexxie Couper takes you on a "Bliss" filled adventure through The Boundaries! Assassin starts us out on our Boundary adventure with Jaienna Ti and Zeric (whom I fell completely in love with).
Jaienna is searching for vengeance for her sister's death from a Bliss dealer, she is a very talented girl and will use all her tricks she has to do get to him. Zeric just so happens to be searching for that same dealer when their paths cross (and boy oh boy do their paths cross).
This is a great beginning to what I can already tell will be a terrific series by Lexxie Couper.
Lexxie Couper started writing when she was six and hasn't stopped since. She's not a deviant, but she does have a deviant's imagination and a desire to entertain readers with her words. Add the two together and you get erotic romances that can make you laugh, cry, shake with fear or tremble with desire. Sometimes all at once.
When she's not submerged in the worlds she creates, Lexxie's life revolves around her family, a husband who thinks she's insane, a indoor cat who likes to stalk shadows, and her daughters, who both utterly captured her heart and changed her life forever.
Having no idea how old she really is, Lexxie decided to go with 27 and has been that age for quite some time now. It's the best of both worlds – old enough to act mature, young enough to be silly.
Lexxie lives by two simple rules – measure your success not by how much money you have, but by how often you laugh, and always try everything at least once. As a consequence, she's laughed her way through many an eyebrow raising adventure.
Contact Lexxie at
lexxie@lexxiecouper.com
or follow her on
Twitter
.
#1 "You're her Aussie cowboy," the woman continued, as if Dylan hadn't said a thing, her gaze taking him in again, her eyebrows knitting in a slight frown.
BOOKS AVAILABLE AT:
One person will win an ebook from Lexxie's backlist and a packet of Tim Tams. US/INT giveaway.
(mmmm Tim Tams... can I enter my own contest for Tim Tams? - lol)
Remember be sure to comment, leave a valid email contact, find the "Guess Who" post on the hop and complete the Rafflecopter for your chance at the weekly and Grand Prizes.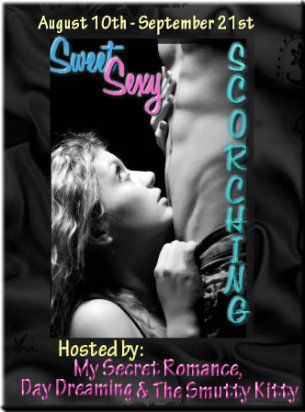 This is a Blog Hop!
a Rafflecopter giveaway