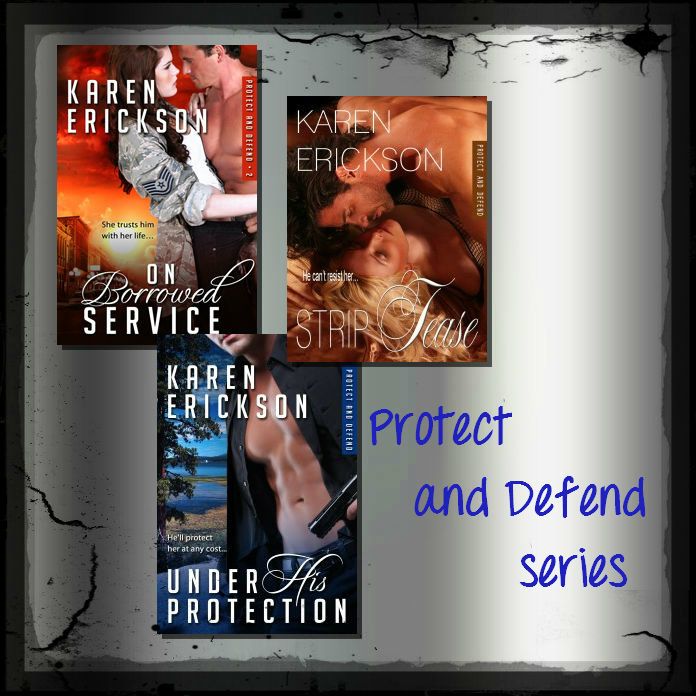 Under His Protection
Protect and Defend, Book 1
He'll protect her at any cost…
Protecting the vice president's daughter is Secret Service agent Mason Russell's top priority. With the election looming and the party's hold shaky, Mason's been given an important assignment – rein the controversial party girl Blake Hewitt in.
He'd like to rein Blake in all right. Keep her under his control and naked beneath him at all times. Blake is the sexiest thing he's ever seen but she's strictly off limits. Though she tempts him like no other.
Banished from the capital and sent far away to the family's vacation home, Blake seizes her chance. She'll make Mason hers no matter what it takes. But the noble Mason doesn't make it easy, and danger lurks where they least expect it…
Strip Tease
Protect and Defend, Book 1.5
He can't resist her…
Covering yet again for her twin sister Ginger is the last thing Janelle wants to do. She's trying to shed her former exotic dancer career, not maintain it. Discovering the guy she's dancing for is an undercover cop on the hunt for her troubled sister scares her. This is the last thing she wants to deal with.
Nathan Banks is desperate to find Ginger for one reason only—he wants to nab her boyfriend, reputed drug lord and cold blooded murderer Billy Diaz. Hell bent on revenge after Diaz killed his partner, Nate doesn't expect the beautiful blonde who tricked him to be much help. But he needs Janelle to find Ginger…
The smoldering attraction between them is undeniable. Fighting it is futile. As they go on the search for Ginger, they become closer to each other—and to danger.
On Borrowed Services
Protect and Defend, Book 2
She trusts him with her life…
A controversial town hall meeting has turned police officer Caitlin Hanson's hometown into a national hub. The politicians have taken over, accompanied by the ever present media, but it's too much for her local force to handle.
Working security detail alongside the Secret Service, Caitlin realizes one of them is awfully familiar. A shame that summer relationship she had with gorgeous Joe Connor had to end so spectacularly bad or else she'd be tempted to give it another go.
She doesn't count on Agent Connor to be so persistent—or so incredibly sexy. Their passionate bickering soon leads into something else. But with threats being made against those he's supposed to protect, Joe needs to be on top of his game more than ever…
Karen will offer up a $20 gift card to Amazon or B&N, winner's choice.Remember be sure to comment, leave a valid email contact, find the "Guess Who" post on the hop and complete the Rafflecopter for your chance at the weekly and Grand Prizes.

This is a Blog Hop!
a Rafflecopter giveaway