Moonlight Masquerade Giveaway Hop!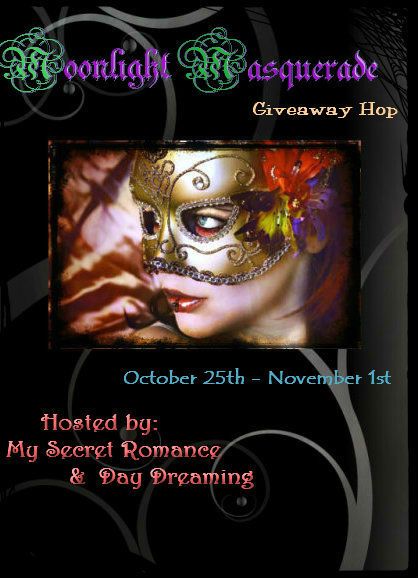 Sign up for the Moonlight Masquerade Giveaway Hop!
Hosted by My Secret Romance and Day Dreaming
Do you have a secret crush you're afraid to reveal yourself to? Worried they'll be either too sweet or too sour? Does the thought of hiding behind a mask excite you? Would you like to fall under the spell of a brooding dark vampire and let him sink his fangs into? Or how about a sexy shifter built thick and hard that you're just dying to pounce on? Well then, come join us as we celebrate all those things that are wicked on Halloween!
Here are the details:
* Any blogger or author can sign up
* Add your information to the linky below
* Grab the code of the picture below and add it to the side bar of your blog
* Choose a book that is related to Halloween-books, candy, Halloween attire
* You are responsible for your own giveaway.
* Please list if this is a US/CAN/INT giveaway
* Post should be up on October 25th at 12am
* I will send an email closer to hop date with all the info and codes needed for the hop
If you have any questions, please email me at Taryn@mysecretromancebookreviews.com and I will get back to you as soon as I can.
This is a blog hop!