Today on the Sweet, Sexy, Scorching Hop
we have Cristal Ryder.
Few weeks ago I got lucky and met Cristal at RWA in Anaheim, Ca. She was so sweet, funny, and very welcoming. Even though she was busy putting together an event she took a few minutes to talk with me and let me gush all over her about how excited I was to meet her (yes I still get that way- sorry authors but you just do that too me).
Have you met Cristal? Read her? Do you follow her yet?
Here's a little bit about her I hope it sparks your interest, cause let me tell you her books will send "sparks" right through you!
Part of this journey to becoming a published author is learning to share things about myself. I think it's harder than writing! I've loved telling stories for most of my life and to create worlds I could escape into, living life as my characters do. I'm thrilled my debut novel,
No Fantasy Required
, released with
Lyrical Press
November 2010 was received with great reviews.
This August Being Ariana will be released by Lyrical Press. I can't wait to share the story of Ariana's adventures with you.
The first romance novel I read was at age twelve. I woke up Christmas morning to find Taylor Caldwell's Ceremony of the Innocent in my stocking. I devoured it and my passion for reading began, followed on its heels by a longing to write.
Everyone has moments in their life that test them and I'm no different. Here I am today living my dream of becoming a published author and ready to experience all life has to offer.
I hope I can tempt and carry you along on a journey of passion to vivid locations with squirm in your seat plots and characters that will come to life for you, so you too can escape into another world.
When I'm not writing or the ideas are not percolating around in my head, I love to travel, spend time on a patio, preferably overlooking the water with a yummy cocktail in hand or lounged in a steamy hot tub, which could include a glass of red wine. I'm a single mom of two college-aged sons, one back at home after giving it a go in the big wide world and the other graduating from chef school this year. I said goodbye last summer to my faithful old Chocolate Lab, Mollie.
I'm tucked away in a small town outside Toronto where let my ideas run rampant to build into another hot a sexy story for you.
HOT FUSION
After fleeing her hometown years ago, Kara Sinclair has returned to breathe life back into the bakery her deceased grandmother left behind. She has a history in this town—one that involves her one true love. A boy she'd thought she'd give her life to before circumstance got in the way. She needs to focus on her task, but one look at Maxwell Stone and all the old feelings return. And it isn't long before she can think of nothing else but reigniting the passion they once shared.
Max never understood what drove Kara away all those years ago, and once she returns to their Canadian hometown, he's hell bent on getting her back into his life…and his bed. But when he uncovers the reason she left him behind, he must decide if he can move on from the past and trust his heart with the only woman he's ever loved.
Just a lil' peek:
Slowly she turned to face him. A million thoughts raced through her mind as her gaze took him in. He was her first lover, and her heart swelled with the familiar ache blending in perfect harmony with her arousal for him. Keeping an ocean between them had been the wisest thing all these years. Maybe coming home was wrong after all, but in her heart she knew it wasn't wrong. It was right. Kara wanted to be here and didn't want to remember the hurtful words said to her all those years ago, but they came back like a punch in the gut. After she left, a new life began for her abroad and she had survived, pouring everything into her new career and carefully protecting herself from further heartache. There had been other men, but she never fully opened up to them, since most paled in comparison to Max.
You can pick up Cristal's books here:
One lucky commenter will win an ebook copy of Hot Fusion.
Remember, every day there will be a different author all blogs involved in the hop, over the next few weeks we will highlight authors books, post excerpts, guest posts and a "Guess Who" (this will be on a different blog each day). See if you can find the "GUESS WHO" post for every author - Can you guess who they are talking about? Every week there will be winners as well as a grand prize winner at the end of the hop - this prize is growing daily, you won't want to miss out. So be sure to stop by each blog daily to comment (leave a contact email) and enter the rafflecopter as well.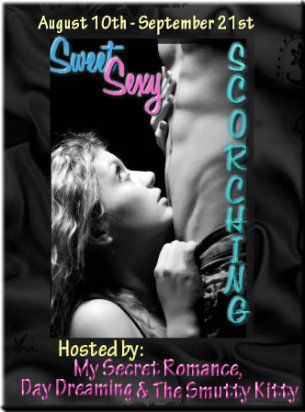 This is a Blog Hop!
a Rafflecopter giveaway