Today we have Sandra Bunino with us for the Sweet, Sexy, Scorching Blog Hop.
Do you know Sandra Bunino?
Let me share some stuff about Sandra with you:
Sandra Bunino began a love of romance stories while penning a creative writing assignment in high school. The story ended with the heroine receiving a long stem red rose in her locker on Valentine's Day. Since then, all of her stories feature the hero presenting the heroine with roses. Sandra is constantly searching for different ways to achieve a heart-pumping, stomach-flipping, breath-catching reaction from her readers.
These days, Sandra lives on a wooded mountaintop not far from New York City with her family. She always looks forward to hearing from her readers and she may be contacted at
sbunino@gmail.com
.
Facebook
http://www.facebook.com/SandraBuninoAuthor?sk=wall
Twitter
https://twitter.com/SandraBunino
Remember, following is sexy!
BOOKS AVAILABLE AT:
Amazon-
http://www.amazon.com/Sandra-Bunino/e/B006SJM5TG/ref=ntt_athr_dp_pel_1
Barnes & Noble -
http://www.barnesandnoble.com/s/sandra-bunino?keyword=sandra+bunino&store=allproducts
Blurb~
William Locke is the love of Sara's life in SARA'S SMILE. Young and ambitious, Will is on the fast track to success. However, his international business accolades lose their luster when he can't get his first love out of his mind. He never got over Sara after she walked away from him that steamy summer evening in the Martha's Vineyard boathouse. Years later he discovers a way to connect with her when and where she least expects it.
Here is a snippet from the beginning of SARA'S SMILE regarding Will from Sara's POV:
A familiar voice drew Sara Wiley's concentration from her Blackberry to the crowded
Fifth Avenue corner where she stood waiting for the crossing signal to change.
A quick scan of the sidewalk revealed the source. Her eyes locked on a back view of broad shoulders outlined under a slate grey suit jacket. Gazing upward, she recognized the head of dark hair that skimmed the top of his collar. Sara sucked in a breath and her heart quickened. There was no mistaking the confident stance as he talked with the man standing next to him. Unable to speak or move from her spot beneath the street sign as the light changed, Sara simply watched as he was swallowed up by the crowd.
Be sure to leave a comment with a valid email to be entered into the weekly drawings as well as hop along the other 12 stops to find the "Guess Who" post and fill out the Rafflecoper for your chance at the Grand Prize.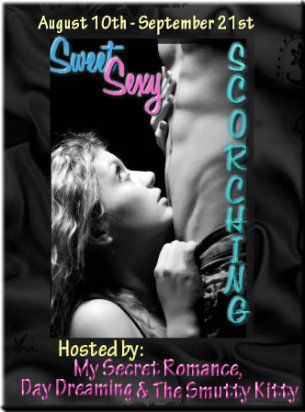 a Rafflecopter giveaway