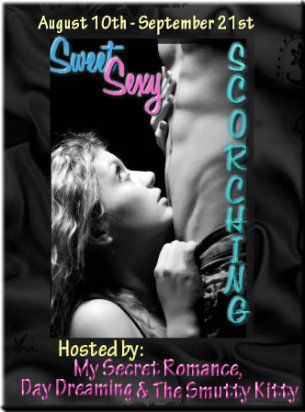 We are starting are 3rd week in the Sweet, Sexy, Scorching Blog Hop. We have had some amazing authors so far and today I am happy to start this week out with a "new to me" author Jami Davenport. I have just finished reading Jami's newest release Public Displays of Eroticism (Anthology with Cassandra Carr and Cristal Ryder) and oh' boy that is one walk in the park I'm glad I took!
**********************
About Jami Davenport
There are two things I've always wanted to do since I was a young child: to write books and to ride horses. The riding I've been doing for years. Until recently, I only dabbled in writing.
I completed my first story at the age of five. I titled it "Wildfire" (about a horse, of course) and illustrated it myself. I still have the book stowed away in the attic somewhere.
I've written stories all of my life. They were my secret garden, my escape from the realities of the world. I never shared them with anyone. I'd hide them away and bring them out when the mood struck me.
I frequented several fan fiction sites on the Internet. As I was reading those stories, I thought I can do that. Four years ago, I posted my first two chapters on a fan fiction site. My hands shook. My stomach lurched. NEVER had I let anyone read my stories before. What if my writing was garbage? What if everyone hated it? It was a soul-baring moment. Fortunately, they loved it. It became quite popular. Several people who'd befriended me on that fan fic site encouraged me to pursue my writing on a more professional level.
Being a devoted reader of romance and an advocate of happy endings, it was only natural to choose romance as my focus. I joined the Romance Writers of America, and the Olympia RWA chapter.
Six months and 105,000 words later, I finished my first manuscript, The Dance. Named after Garth Brooks' popular song, the original ending wasn't happily ever after, but I quickly changed that small detail. I started my second single title on Thanksgiving Day and pushed myself to see how long it would take me to finish it. I finished it the middle of February and was very proud of myself for being so fast.
To date, I've published four novels and two short stories in an anthology.
A few years ago, I married a wonderful man. You can bet my Green Beret turned Plumber will be an inspiration for a future book. In my spare time, I show the above-mentioned Hanoverian mare, in dressage. I'm also a rabid Seattle Seahawks and Mariners fan through thick and thin. Lately, I've developed an interest in gardening.
An avid boater, I've spent countless hours in Washington State's San Juan Islands, the most beautiful place on earth, and the setting for "Who's" and "The Dance." You'll see more books in the future set on these islands. My banner and several other pictures on this site were taken in that area.
Currently, I'm a PAN member of RWA and three RWA chapters: Peninsula, Greater Seattle, and Olympia. I'm co-president of the Olympia chapter with fellow writer Anthea Lawson. I spearhead the annual Elizabeth Kistler Memorial Retreat in Port Townsend at Manresa Castle for the Olympia chapter.
I love corresponding with other aspiring authors and friends.
You can email me at: j
amidavenport@hotmail.com
Blog:
http://jamidavenport.blogspot.com/
Twitter:
https://twitter.com/jamidavenport
Facebook:
http://www.facebook.com/jamidavenport
**********************
While preparing Jami's post I noticed she had two other series out. Seattle Lumberjacks looked very interesting to me, so I picked up Fourth and Goal - I have a thing for footballers, they hard lean hard bodies and are great with their hands.
Here are all of Jami Davenport's available books (just click on the books for more info)
BOOKS AVALIABLE HERE:
Amazon, B&N
Seattle Lumberjacks Series

Fourth and Goal
Digital Version

Fourth and Goal
Print Version

Forward Passes
Late 2012

Down by Contact
Early 2013
Evergreen Dynasty Series
Anthologies
Jami will be giving away a paperback copy of Fourth and Goal to one lucky winner. Remember, every day there will be a different author all blogs involved in the hop, over the next few weeks we will highlight authors books, post excerpts, guest posts and a "Guess Who" (this will be on a different blog each day). See if you can find the "GUESS WHO" post for every author - Can you guess who they are talking about? Every week there will be winners as well as a grand prize winner at the end of the hop - this prize is growing daily, you won't want to miss out. So be sure to stop by each blog daily to comment (leave a contact email) and enter the rafflecopter as well.
BEST OF LUCK!

This is a Blog Hop!