Today we have Crystal Jordan joining us on the Sweet, Sexy, Scorching Blog Hop! When I found out we were having Crystal on the hop I knew right off which series I wanted to highlight. Crystal's In The Heat Of The Night was the first series I read from her and I fell for her immediately! I'm a huge paranormal fan and with this series you get a bit of it all. So hop along this hop and see what else she has to offer cause you don't want to miss out on anything Crystal Jordan has to offer!
When Lena walks into the Eclipse bar, she turns Rachel's world inside out. She's a werewolf who scents her mate, and nothing will stop her from claiming what's hers.
Rachel has always assumed that when she mated with Jerrod she'd never know another lover, despite her longing for both men and women. No werewolf would be unfaithful. Ever. She's terrified of how the man she loves will react when he finds out the instincts that drew her to him five years ago now pull her to another woman.
What's a werewolf to do when she finds her soulmate twice? It's a total eclipse of the heart.
Big Girls Don't Die
Six months ago, Andre St. James committed the ultimate one-night-stand party foul by turning Cynthiana into the spawn of Satan…also known as a vampire. He insisted he knew they were meant to be together forever and ever, so why wait for her to be on the same page with him to suck the life out of her?
What. Ever. The only thing the two of them share is chemistry that blasts off the charts. So she dropkicked him out of her life and told him to never come back. He listened. Until now.
Andre knows Cyn has trouble dealing with his take-no-prisoners approach to life, and that turning her against her will was a mistake. But he's got patience born of centuries of immortality, and he'll do whatever it takes to get back into her good graces and stay there forever. Including wait until she has no choice but to turn to him.
After all, no one understands forever like a vampire. He's loved her from the moment he saw her…and he always will.
It's Raining Men
She loves them too much to change them. Until they turn the tables on her…
Every one of Candy's werewolf instincts tells her that Michael is her mate. He's a lawyer—smart, sophisticated, and handsome. The catch? He's gay. There is no way she's going to try to change who he is. Then she meets his lover Stephen, a seductive Fae-siren jazz singer, and she's positive she's got a screw loose somewhere. Mates with not one, but two gay men?
She's definitely doomed to be single forever.
Michael and Stephen know that their unexpectedly flirtatious advances have thrown Candy for a loop. But there's method to their madness—they're both serious about her. And they plan to make sure she never spends another birthday alone.
Love can drive you over the edge. It can also let you fly.
Pixie Parthon worked hard to make her music production company a success. Anyone who gets in her way gets the business end of her Fae magic. Her savvy business sense kept her family afloat for years, but now that her musician brother is mated and off on a world tour she's feeling left in the dust.
Maybe it was a faint wish for a little love magic for herself, but she didn't expect one night of cutting loose to leave her marked for life. A little love bite is one thing. Give up her hard-won independence to a pushy alpha werewolf? She'll pass.
Malcon is just as shocked as Pixie, but for a different reason. From the moment he saw her, his desire went far beyond getting into her pants. When she agreed—begged—to be bitten, he believed she also sensed their destiny to be mates.
Now it's too late. Nothing will convince Pixie that he has no intention of clipping her wings—not even a month's worth of orgasms on call. Crazy as it sounds, love is all he wants from her. Even if it means letting her go…
Do you like your books in print? Well your lucky cause you can find all four of Crystal's book in this series in one lovely print collection here.
In the Heat of the Night
When wildness rules the night, giving in is the only choice.
Total Eclipse of the Heart
Werewolf law demands that once mated, werewolves know no other lover. Then Lena walks into Rachel's world, turning it inside out. Her mate may not like it, but once scented, nothing will stop Rachel from claiming what's hers…
Big Girls Don't Die
Six months ago, Andre turned Cynthiana into a vampire, insisting it was meant to be. Cyn doesn't call this a healthy relationship. When she ends up stranded on Valentine's Day, he grabs his chance to convince her they can live happily ever and forever after.
It's Raining Men
Candy has always known Michael is her mate. The catch? He's gay. When she meets his lover, she's sure her werewolf instincts are faulty. Mates with not one, but two gay men? She must have a screw loose. Little does she know both men are about to rock her world.
Crazy Little Thing Called Love
Anyone who tries to get in Pixie's way gets the business end of her Fae magic, especially pushy werewolf males. Luckily, Malcon likes her that way. Their uncomplicated fling, for him, is anything but—she's his mate. He just has to convince her that love won't clip her wings.
READ
Excerpt
BUY IT HERE:

Crystal Jordan began writing romance after she finished graduate school and needed something to fill the hours that used to be eaten away by coursework. She spent far too many years in school and now has degrees in History and Library Science…but swears that both of them help enormously with her writing and research.
Her family sprawls from Texas to Illinois and from California to the United Kingdom. She has three brothers, several rather adorable nieces and nephews, a quirky grandmother who pushed her into writing in the first place, an indispensable best friend codenamed the Mad Madam M, and her very own hero, the Professor Moriarty (who codenamed himself after Sherlock Holmes's arch-nemesis. Who wouldn't love a man who loves a good villain?).
Never one to stay in one place very long, Crystal has lived and worked all over the United States. Currently, she serves as a librarian at a university in the California Bay Area.
In 2006, Crystal sold the first story she ever finished to the e-publisher, Cobblestone Press. Since then, she's sold paranormal, futuristic, contemporary, and erotic romance to Samhain Publishing, Harlequin Spice Briefs, The Wild Rose Press, and Ellora's Cave.
Then, the day before the 2007 RWA National Conference, she got The Call to be a part of Kensington Aphrodisia's Sexy Beast anthology. After a whirlwind month, she had an agent and an additional two-book deal with Kensington.
And she lived happily ever after.
Crystal is giving away to one lucky winner both On the Prowl and Prowl the Night books in either print or pdf. Remember, every day there will be a different author all blogs involved in the hop, over the next few weeks we will highlight authors books, post excerpts, guest posts and a "Guess Who" (this will be on a different blog each day). See if you can find the "GUESS WHO" post for every author - Can you guess who they are talking about? Every week there will be winners as well as a grand prize winner at the end of the hop - this prize is growing daily, you won't want to miss out. So be sure to stop by each blog daily to comment (leave a contact email) and enter the rafflecopter as well.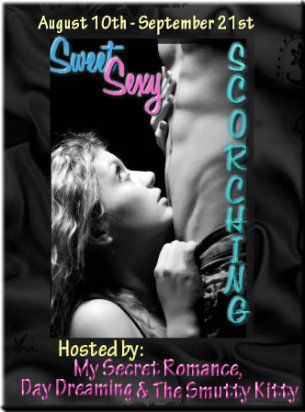 BEST OF LUCK!
This is a Blog Hop!
a Rafflecopter giveaway